Megha Bhardwaj, sub-divisional officer (SDO) of Sadar, showcaused Roshni Tirkey, mayor of Hazaribagh municipal corporation on Thursday for leading a group of villagers and halting traffic on NH-33, the Ranchi-Patna highway, on Tuesday, July 28 as well as for stopping health workers from conducting the last rites of Covid positive dead bodies.
It was allegedly on Tirkey's provocation, the village women blocked the busy road demanding immediate stopping of last rites of Covid positive dead bodies on the bank's of the Konar river.
Tirkey confirmed receiving the showcause letter, which she is supposed to reply in the next two hours, failing which she was threatened of FIR against her.
The notice said that due to this jam, traffic came to a standstill and computers faced problems. It said that during this Covid crisis, conducting the last rites of dead bodies is a big challenge for the administration, and the mayor hindered the process by leading agitators to block the road. It further said that during this blockade, Covid protocols were not maintained as agitators violated social distancing norms. The notice also charged the mayor for misguiding villagers about the spread of the disease through last rites of dead bodies.
Tirkey refused to comment on this issue. She has already issued a letter to the municipal commissioner asking to take steps to stop the last rites of Covid positive bodies in Konar river.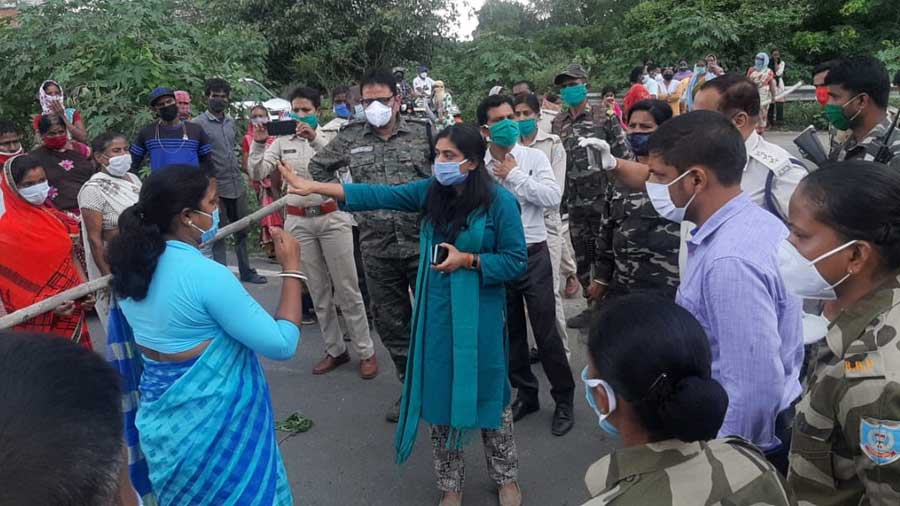 Mayor Roshni Turkey (in blue saree left) speaking to SDO Megha Bhardwaj in Hazaribagh on Tuesday during the road blockade by villagers Vishvendu Jaipuriar
Seven shops sealed in Dhanbad
Dhanbad district administration on Thursday sealed seven shops that violated lockdown norms, and seized over 30 vehicles for unauthorised parking from Bank More area of Dhanbad. The action was taken during an inspection carried out by a high level team of the district administration and police, led by Deputy Commissioner Uma Shankar Singh, comprising others including additional district magistrate Raj Maheshwaram, and DSP (law and Order) Mukesh Kumar.
Maheshwaram later said the inspection was carried out after they came to know that these shopkeepers were violating lockdown norms. Last week, on July 24, too, the Dhanbad district administration carried out a similar drive during which four shops violating lockdown rules were seized, three of which were in Purana Bazar area, while one was in Bank More area.
Deputy Commissioner holds review meeting
Dhanbad Deputy Commissioner Uma Shankar Singh on Thursday held a review meeting to look into the preparations for the upcoming Independence Day celebration, Bakri Eid festival and also the increasing cases of Covid-19. He instructed the officials to remain extra vigilant and also encourage people to offer Namaz from inside their houses. He also told the officials to ensure that no sacrifice of animals banned under the animal cruelty act are carried out anywhere, and take action against those indulging in such sacrifice. He also instructed the officials to take action against fake news and unidentifiable news.
Covid investigation campaign in Bokaro from Friday
In order to prevent the spread of Covid-19, the Bokaro district administration has decided to launch a three-day special random investigation campaign from Friday. Deputy Commissioner Rajesh Singh said it is necessary that maximum number of people should be screened so that those infected could be detected and treated on time.
The spread of Covid-19 in the district can only be stopped if its chain is broken. Health workers will visit markets, haats, shops, etc and conduct random sampling of people under the campaign. The samples will be send for RT-PCR Covid-19 test to Palamau Medical College and Hospital (PMCH), Dhanbad.
Sub-Divisional Officer (SDO), Chas, Shashi Prakash Singh said that the objective of the investigation is to protect more people from this infection. From slum dwellers to people residing in residential areas everyone will be screened.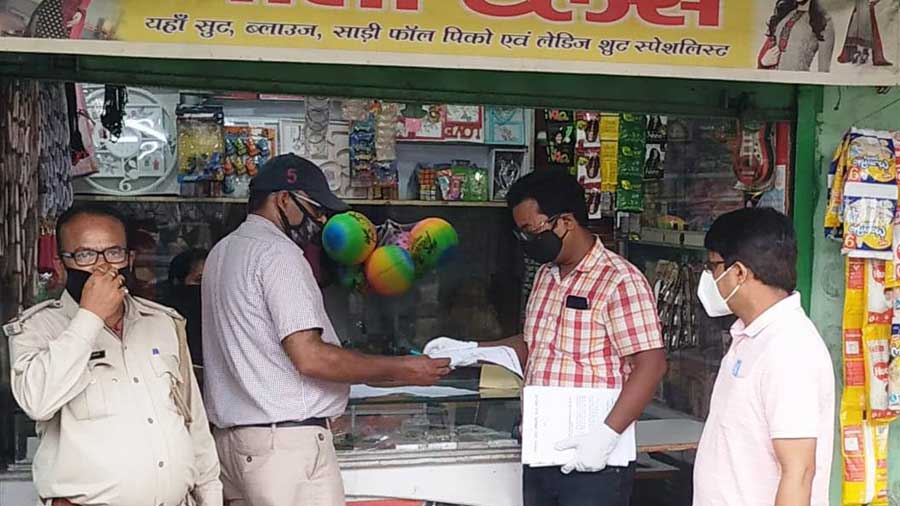 Health workers will visit markets, haats, shops, etc and conduct random sampling of people under the campaign Telegraph picture
21 Covid patients recover in Bokaro, 3 new cases surface
Over the last two days, 21 coronavirus positive patients were cured and returned to their homes from the Covid Care Center of the Bokaro district health department. On Wednesday, eight people, and on Thursday 13 people were released. They all are aged between 28 to 50 years, and belong to different areas of the district.
Three new Covid-19 positive cases surfaced in the district on Thursday. They are, a 25-year-old youth of Yaduvansh Nagar, Chas, a 32-year-old man from Jamgoria Moad, Chas, and a 45-year-old man from IEL Colony, Gomia. Currently in the district there are 50 active cases, whose condition is stable. There were about 270 samples collected and sent for investigation including 187 for tests through RT-PCR in Palamau Medical College and Hospital (PMCH), Dhanbad, and 73 samples to be tested at Truenat in Sadar Hospital.