Green crusader starts animal awareness campaign ahead of hunting festival
Jamuna Tudu pleads with villagers to not kill in the name of tradition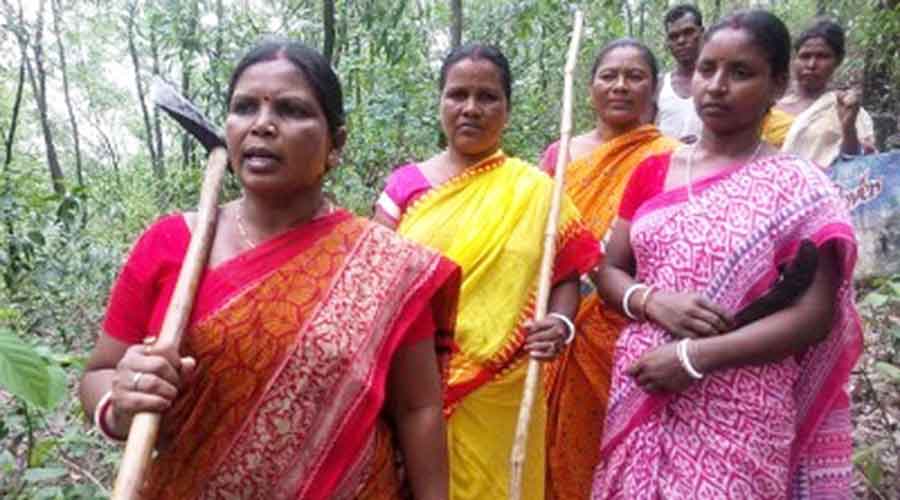 ---
---
Environmentalist and Padma Shri awardee Jamuna Tudu has launched an awareness campaign against the futility of killing animals.
With Bishu Shikar or Sendra, the annual hunting festival of tribals, scheduled next month, Jamuna is keen to reach as many people as possible with a message to not kill animals in the name of tradition.
The 35-year-old called a meeting of Van Suraksha Samity (VSS) at Laubera village under Bardikanpur Kalapathar panchayat under Chakulia block of East Singhbhum on Friday to discuss the campaign which will be held at local villages.
Villagers go hunting in the jungles of Chakulia block almost every day. Besides collecting wood for fuel, they also kill small animals like rabbits and squirrels.
Van Suraksha Samity, formed in 1998, has been actively protecting the forests from timber mafia.
"We have toured some villages in Chakulia block to spread awareness. We requested people with folded hands to not kill animals. We intend to tour entire East Singhbhum once the Covid-related situation improves," Jamuna said on phone from Chakulia.
According to her, animals are killed in jungles during Sendra. "I appeal to my tribal brethrens to not kill animals in the name of tradition. Keep the festival symbolic. Just perform puja to celebrate the occasion," she added.
"If need be, we will also support the forest range office in their bid to keep tribals at bay during Sendra. We will also tour the jungles and try and stop the tribals from hunting animals," said Jamuna, also known as Lady Tarzan.
Jamuna and her team have planned to meet Jamshedpur-based Dolma Buru Sendra Samity (DBSS), the organisers of Sendra at Dalma wildlife sanctuary.
"Sendra will be celebrated on May 24. We have plans to meet DBSS members and tell them to not kill animals at the sanctuary. There is no need to kill innocent animals in the name of tradition. I hope the tribals understand and pay heed to our request," the green crusader said.