Funds grouse by panchayats
Complaints that wages may not be enough to attract labourers for projects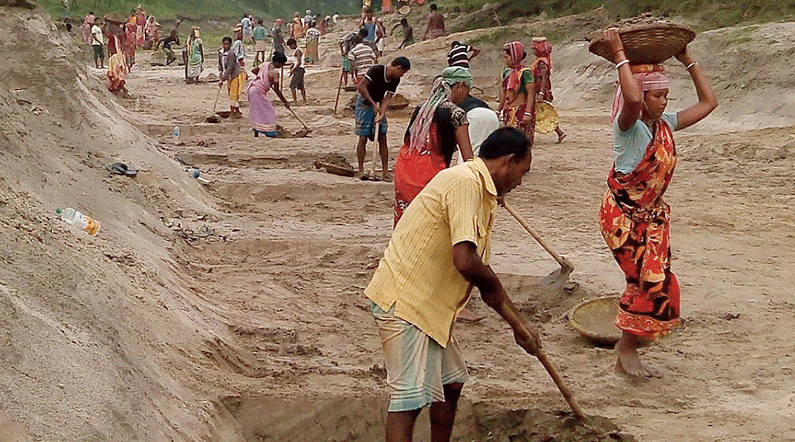 Panchayat bodies have been directed to converge work worth half the total value with MGNREGA schemes.
File picture
---
Ranchi
|
Published 30.07.20, 05:48 AM
|
---
Panchayat bodies in Jharkhand, which have started receiving the first instalment of the grants from the Fifteenth Finance Commission for 2020-2021, are glad to continue the development work but claimed the wages are not enough to attract labourers for projects.
"We have already received Rs 6.80 lakh as the first part of the first instalment and the second part is likely to reach any day," said Ajay Kumar Singh, head of Bundu gram panchayat in Bokaro district. The gram panchayat has won two national awards for its performance.
"But we may face problems, particularly in paying wages to labourers," he said.
He claimed the wages would be less than what the labourers received earlier.
Based on the recommendation of the 15th Finance Commission, the Centre allocated Rs 60,750 crore for 2020-21, said to be the highest annual grant, to about 2.63 lakh three-tier rural local bodies in the country. The first instalment was released last month. The first instalment was released in two equal parts of Rs 15,187.50 crore for distribution among the rural bodies, including about 4,850 in Jharkhand.
While the first part (basic grant) is meant for meeting the location-specific needs, the second part (tied grant) is for basic services such as sanitation and maintenance of ODF (open-defecation free) status, supply of drinking water, rainwater harvesting and water recycling.
It was also expected that the grant will help provide gainful employment to migrant labourers who returned to their native places due to the coronavirus-induced lockdown.
Panchayat bodies have been directed to converge work worth half the total value with MGNREGA schemes. 
"We have no problem with convergence of projects. But the wage under MGNREGA in Jharkhand is Rs 194 while the labourers got Rs 237 when they worked for schemes under the 14th Finance Commission grants," Ajay Kumar Singh said.
"We had taken up a project to install covered drains and will complete it now with the grant," he said.
"I found the wage of a mason was not taken into account while making an estimate for constructing a soak pit. This needs to be corrected," he said.
"It's (convergence of work) a problem to attract workers as the labourers get around Rs 300 as daily wage when they work elsewhere," said Dayamani Mundu, head of Indipiri panchayat in Khunti district.
"We will construct some roads and erect a boundary wall of the school with the basic grant and create drainage with the tied grant," said Indu Devi, mukhiya (head) of Kapali panchayat in Giridih district, which has also won national awards.
Dayamani said they would focus on water conservation and rainwater harvesting.
"We also have the same priorities," said Mahadev Munda, head of Rampur panchayat in Ranchi district.