From mosquito dens to colourful tree guards
Jusco extends 'best out of waste' idea to abandoned water tanks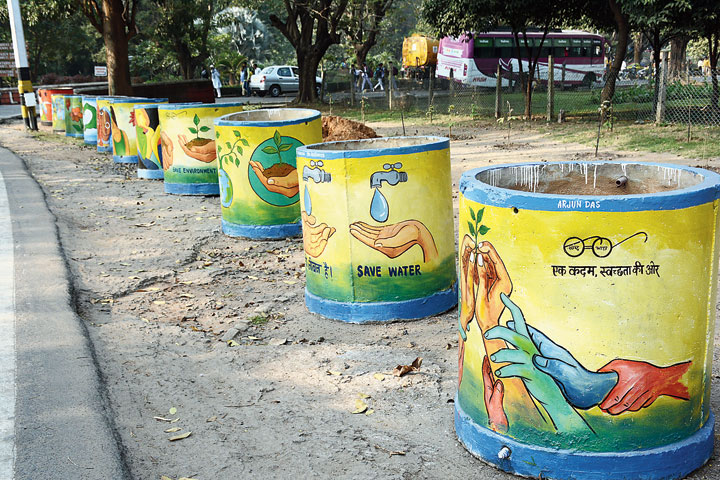 ---
---
Abandoned overhead water tanks, that were until now the ideal breeding sites for mosquitoes, are being turned into catching structures that will not only spread awareness on key issues but also act as tree guards along important stretches in the steel city.
Tata Steel utility arm Jusco will soon install nearly 2,000 such concrete water tanks, which have been painted by local artists using natural colours, on the road medians.
The colourful tanks will highlight important issues such as water and environment conservation, cleanliness and women empowerment. They will be filled up with soil for planting of saplings.
"The latest initiative is part of our policy to make the best out of waste. We have a panel of local artists who have almost completed painting the tanks and writing slogans on issues such as environment conservation, women empowerment and tribal culture. The colourful structures will also add to the beauty of the important roads. Our horticulture unit will plant saplings of ficus benjamina (commonly known as weeping fig) that require less maintenance and watering. We hope to start the installation in a month or so," Jusco spokesperson Sukanya Das said.
According to sources in Jusco, the concrete water tanks were lying in the Jusco godown after the demolition of company quarters in different parts of the city for widening of roads.
"The overhead water storage tanks belonged to quarters that were razed in places such as Sakchi, Kadma and Baridih. It was getting difficult to dispose of so many concrete structures. Leaving it as it is would have led to the accumulation of water, leading to the breeding of mosquito larvae. After much deliberation, we thought of reusing the tanks as tree guards after getting them painted," the source said.
In the first phase, the tanks will be installed along the median and traffic islands along Subernarekha Link Road (near Jubilee Park), Kadma-Sonari Link Road, and along the Kalimati Road- JNAC roundabout intersection in the first phase.
"Gradually, similar structures will be placed on other road dividers," the Jusco official added.
Jusco and Tata Steel have been using iron and steel scraps and using them to beautify roundabouts and important arteries for the last three-four years.
"We got positive feedback and decided to use the concept of making the best out of waste," said Sukanya Das.
Residents are lauding the initiative.
"I had gone with my family to Jubilee Park for a weekend gathering and saw the newly painted overhead water tanks. Initially, I couldn't recognise that they were water tanks. They look so colourful," Subroto Das, an employee of Tata Steel and a resident of Baridih, said.