Fresh tigress kill
Cameras to trap big cat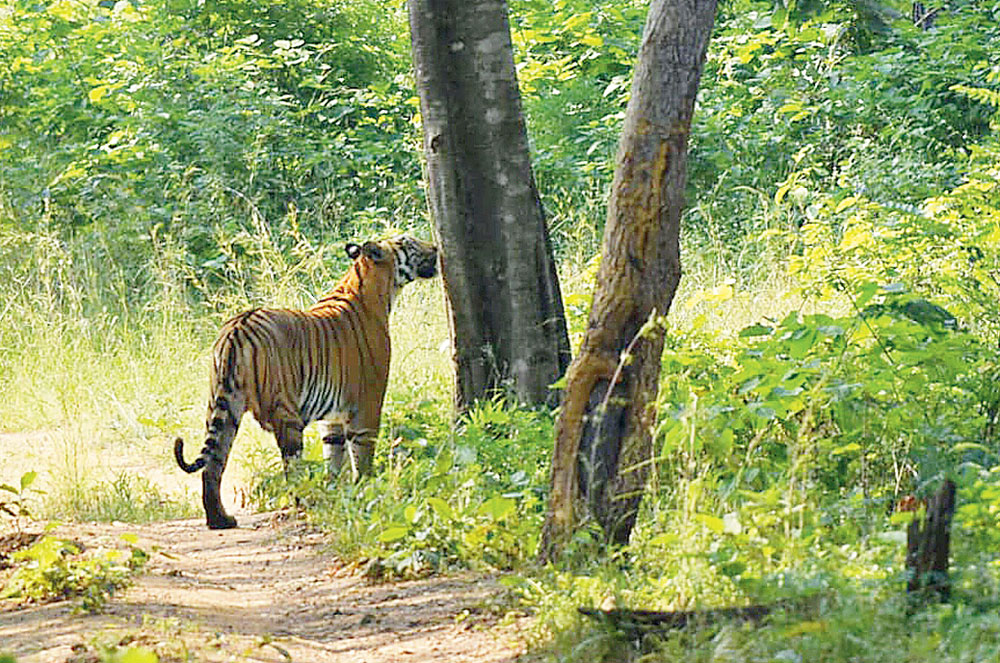 ---
---
The carcass of an ox was found in the dense Basadera jungle in Galudih, around 65km from the steel city, on Monday evening, confirming that the tigress that is believed to have walked into Ghatshila was still around.
Earlier, another ox had been killed and a cow injured around the nearby Dainmari jungle. A tigress's pugmarks were also found. Jamshedpur divisional forest officer Abhishek Kumar said the fresh ox kill occurred around 5pm on Monday.
"Residents of Basadera village had heard the loud calling of a cattle from inside the Basadera jungle. Suspecting that the tigress had killed a fresh prey, the villagers had contacted the watchful forest guards who discovered the carcass of the ox around half-a-kilometre from Dharagiri falls and about 1.5km from Basadera village," he said.
A team of 20 forest guards discovered the carcass. "We have intensified our drive to make villagers aware after getting a fresh instance of killing by the tigress," the DFO said. "Moreover, other people do come to this region for picnics."
There are two picnic spots close to the Dainmari-Basadera jungles: Bhurudi dam in Galudih, and Dharagiri falls. The Basadera jungle is 2.5km from Bhurudi dam and 1.5km from the Dharagiri falls.
The Jamshedpur forest division on Tuesday procured five camera-traps from Dalma Wildlife Sanctuary that will be set up in the Basadera and Dainmari jungles to track the tigress.
DFO Kumar said forest staff would fix the camera traps as early as possible as they are yet to sight the tigress in the twin jungles where she has been prowling for the past four to five days. The camera-trap images, he said, would also make it clear whether the tigress is accompanied by a cub.