4 Jharkhand Congress MLAs take their grievances to Delhi
Irfan Ansari-led team meets party general secretary, raises delay in forming state working committee & non adherence to one-man-one post rule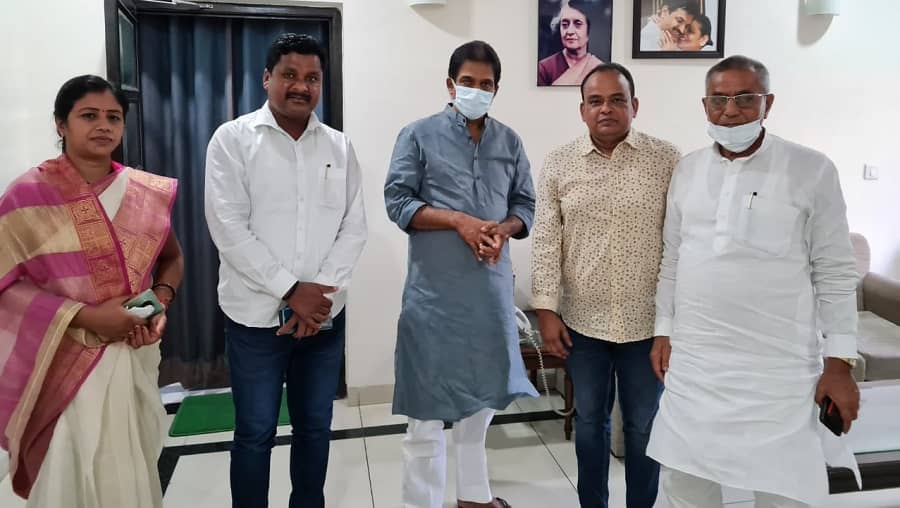 (From left) MLAs Mamta Devi (Ramgarh), Rajesh Kachchap, Irfan Ansari and Umashankar Akela meet INC general secretary K C Venugopal (centre) in Delhi on Wednesday.
Telegraph picture
---
Ranchi
|
Published 23.06.21, 01:40 PM
|
---
A group of four disgruntled Congress MLAs from Jharkhand is camping in Delhi to meet the central leadership and air their grievances, primarily about the delay in constituting the working committee of the state party.
On Wednesday morning, MLAs  Irfan Ansari (Jamtara), Rajesh Kachchap (Khijri), Mamta Devi (Ramgarh) and Umashankar Akela (Barhi) met Congress national general secretary K.C. Venugopal to discuss various issues for about 45 minutes. 
They also met Jharkhand affair's in-charge R.P.N. Singh on Tuesday night with a host of demands.
Ansari and Co. have have made their grievances public at a time when the  Congress, which is a part of the JMM-led ruling alliance government in Jharkhand, is also grappling with organisational issues in other states where it is in power.  
Ansari, who is a co-working president of the state Congress, said, "We are here to meet our central leaders to discuss ways to strengthen our party in the state. Honestly, things aren't good with the party at the state level and the majority of workers feel neglected. Something has to be done to address these glaring issues."
Another MLA, on the condition of anonymity, cited their issues. "The Jharkhand Pradesh Congress Committee, kind of apex working committee, is still to be constituted for at least four years now. 20-point programme committee for smooth coordination with alliance partners and the government at district and state levels aren't fully constituted and functional. There is no proper democracy left within the party leading to different kinds of factionalism. In the long run, it will dent the party," said an MLA.
The MLA added, "Before the assembly election, party announced one man- one post policy. However, it is still to be applied as the state president (Rameshwar Oraon) is also occupying ministerial berth in the state cabinet. What about other deserving people?."
Notably, one of the ministerial berths out of the 12 member cabinet is still empty, for which many are lobbying hard. But the alliance partners are still to reach to any consensus as both JMM and Congress have been staking claims on it. 
Congress sources in Ranchi maintained that MLAs are also trying several pressure tactics to grab positions in government owned boards and corporations.
Of the four MLAs, Ansari is known to be the most critical voice against the state leadership and is trying to forge a coalition of dissenters within the party. It is because during 2019 Lok Sabha polls, Ansari and his father Furkan Ansari, a veteran Congressman was upset after the latter was denied ticket to contest from Godda parliamentary seat. The seat went to now-defunct JVM-P as part of the deal with the alliance partners. But JVM-P's Pradeep Yadav, who fought from Godda ultimately lost to BJP giving more strength to Ansaris to criticize state Congress leadership.
Later, former president Ajoy Kumar resigned from the post after LS polls owing to increasing bickering within the party. After Congress came to power in alliance with JMM and RJD post 2019 assembly polls, Irfan reportedly lobbied hard for ministerial berth but met with raw deal.