Four-day Chhath festivity begins with nahay - khay ritual
Ranchi Meteorological Centre on Monday issued sun-rise and sun-set timings for various cities across Jharkhand for November 10 and 11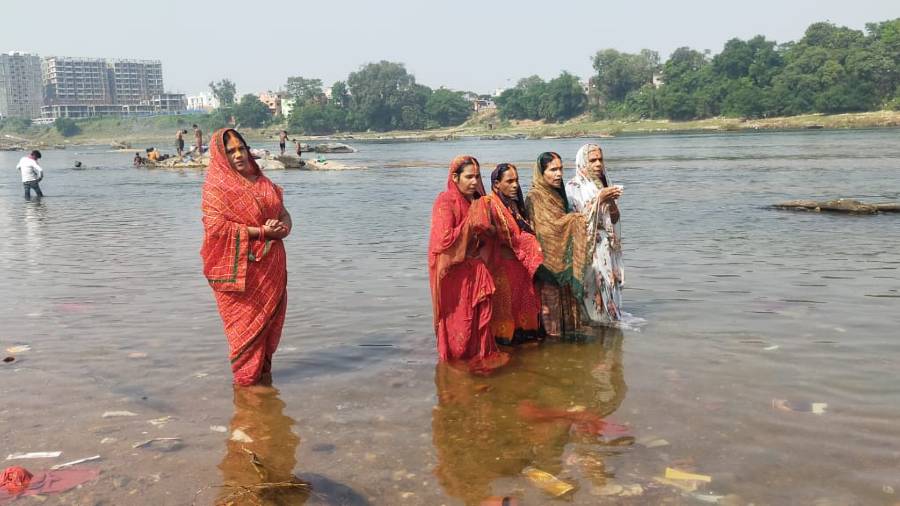 Chhath vratis offering prayers to Sun God after taking a bath at the Subernarekha river ghat at Sakchi in Jamshedpur on Monday.
Bhola Prasad
---
Jamshedpur
|
Published 08.11.21, 07:34 PM
|
---
Chhath, a festival dedicated to the sun god, began on Monday with 'nahay- khay' ritual. On this occasion, the believers cleaned and decorated their houses.
Thereafter, all Chhath vratis (those fasting) took a bath in the morning and offered prayers to the rising sun at their homes and at river ghats before eating a spread of rice, chana dal and pumpkin curry.
This is a traditional food item, which is considered pure and is cooked on the first day of the four-day festival.
After the 'nahay- khay' rituals, Chhath vratis do not eat or drink until 'kharna' (another important ritual) observed on the second day of Chhath Puja. It is only after 'nahay-khay' that people buy necessary food items needed for the puja.
On the second day, believers cook a special Prasad, which they eat and distribute among friends and family members. This special meal is known as 'kharna'. After the day-long fast, one is supposed to cook 'kheer' and 'roti' as parsad.
The 'kheer' is made from rice, jaggery and milk, which is eaten with 'roti' and ghee.
This is also the last meal for those observing the fast, following which, they will fast for two continuous days.
On the third day of the festival on November 10 believers will gather along the river ghats and other artificial water bodies to offer prayers and 'arghya' to the setting sun.
The Chhath festival will end on the fourth day - November 11, with believers offering 'arghya' to the rising sun, following which the Chhath vratis break their fast.
Today, Chhath devotees were also seen drying wheat under the sun, which will be later used to make thekua, the main prasad of Chhath.
IMD issues sun-set and sun-rise timing for various cities
In view of Chhath, IMD's Ranchi Meteorological Centre on Monday issued sun-rise and sun-set timings for various cities across Jharkhand on November 10 and 11.
According to a chart released by Ranchi Meteorological Centre:
Ranchi will witness sunset at 5.07 pm on November 10 ( Wednesday ) while the sun-rise on November 11 ( Thursday ) will take place at 6 am.
• In Jamshedpur the sunset on November 10 will take place at 5.04 pm while sunrise  on November 11 will take place at 5.56 am.
• At Daltonganj the sunset on November 10 will happen at 5.10 pm while the sunrise on November 11 will take place at 6.06 am.
• At Bokaro, the sunset on November 10 will take place at 5.10 pm while sunrise will take place at 5.58 am on November 11.
• At Baidyanathdham in Deoghar sunset will take place at 4.58 pm on November 10 while sunrise on November 11 will take place at 5.56 am.
• Dumka in Santhal Pargana will witness sunset on November 10 at 4. 57 pm while it will witness sunrise the next day at 5.54 am.
• Similarly, the weather office issued sunset and sunrise timings of several other places including Chaibasa in neighbouring vWest Singhbhum and Giridih.
• Head of Ranchi Met Centre, Abhishek Anand said, "We have issued the sunset and sunrise timings in advance for the convenience of Chhath devotees."
• Ranchi Met Centre issued a forecast of dry and clear weather in Jharkhand on November 10 and 11 with minimum readings hovering between 13 and 16 degrees Celsius in most places.