Forest guards start pay protest
They claim that a large number of forest guards have still not been given salary increment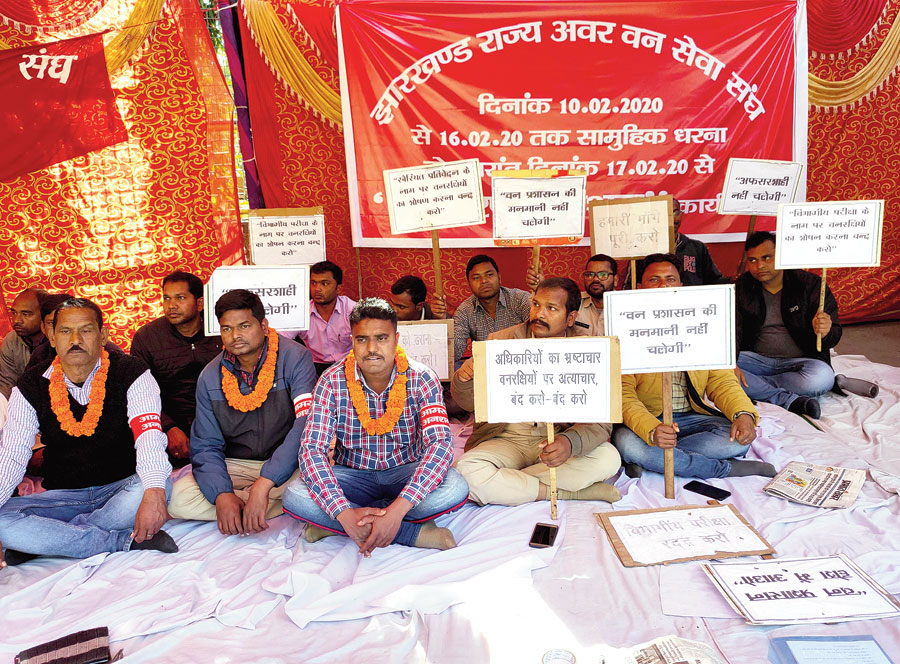 Forest guards on the indefinite hunger strike in front of Raj Bhavan in Ranchi on Monday.
Picture by Manob Chowdhary
---
Ranchi
|
Published 17.02.20, 07:03 PM
|
---
Forest guards of Jharkhand on Monday stared an indefinite sit-in in front of the Raj Bhavan to press for 16 demands.
The Jharkhand Rajya Awar Van Seva Sangh said that all 1,700 forest guards of the state would boycott official work until their demands are met.
They alleged that a large number of forest guards have still not been given salary increment despite them having successfully passed departmental training and typing tests.
They have still not been given the assured promotions, office-bearers of the Sangh said.
"We have been facing problem due to faulty policy of the department," said Shivlal Mahto, general secretary of the outfit. "We have been given field duty but our attendance is done through biometric attendance. Each forest guard is given a forest area inspect to stop violation of the forest laws. We have to submit khairiyat (all is well) report. But the problem is that our territory is not defined."
In 2014, the state government restructured their service rule. There is a post of chief forest guard, but the role and responsibility of this post is not well defined, the outfit members pointed out.
They have been demanding that the government abolish the post of chief forest guard. Their demand is that forest guards should be directly given promotion to the post of forester.
Besides, they are also demanding renaming of their post from forest guard to sub-beat officer.
In Jharkhand there are around 3,700 sanctioned posts of forest guards, of which around half are vacant. A recruitment drive to fill up the vacant posts is among the demands.
They have also been demanding 13-month salary on line of Jharkhand police, conveyance allowance and motorbikes. They contend that their jobs are similar to those of policemen so they should get the same kind of facilities.
Before 2014, the minimum educational qualification for forest guard was that they must have passed class seventh. After the service rule was amended, Intermediate (Plus Two) was fixed as minimum educational qualification.
"While minimum qualification has been increased, our salary structure has not been revived," said Kameshwar Prasad, an office-bearer of the outfit. "Besides, we expect the government to start investigation against senior officials of the department involved in the corruption. We also want the old pension, which has been discontinued, back."