Elephants barge in: Forest department seeks restricted train speed in Chandl-Tata section
The move is triggered by a bid to save the lives of pachyderms which tend to move around in the forest range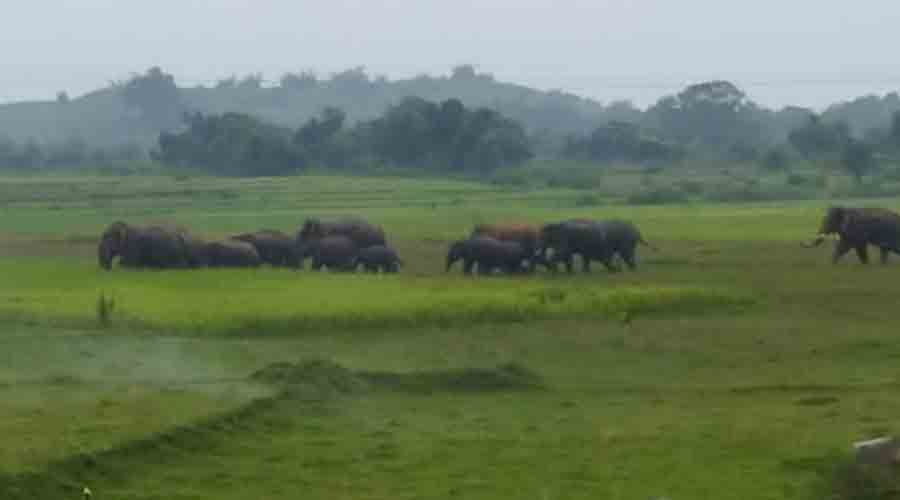 ---
Jamshedpur
|
Published 21.11.21, 08:49 PM
|
---
Following the arrival of about 60 wild elephants in the Chandil forest range area within the past 48 hours, the forest department on Sunday requested the South Eastern Railway authorities to operate trains in the Chandil-Tata section at a restricted speed. 
The move is triggered by the bid to save the lives of pachyderms which tend to move around in the forest range through which Howrah-Mumbai main line passes.
"The Chandil-Tata section on the Howrah-Mumbai main line passes through the Chandil forest range where the movement of wild elephants remains negligible. But as three herds comprising about 60 elephants have entered the forest range, the passing railway tracks have become a matter of concern for us. This is why we have written to the SE Railway authority to instruct the train drivers to operate the trains at a restricted speed," said Chandil forest range officer, Shashi Prakash Ranjan to The Telegraph Online.
The range officer said they have requested for restricted movement of the trains through the Seraikela forest divisional officer Aditya Narayan to the SE Railway general manager on Sunday. 
He pointed out that they have also mentioned that the forest department is monitoring the movement of the tuskers and as soon as the herds move away from the Chandil range, the trains may be allowed to move in normal speed. 
The elephants' herds have migrated into the Chandil forest range from Chaibasa, Bengal's Purulia district and Sundargarh district of Odisha for grazing the paddy crops in the forest range which is about 30 km away from the steel city. 
Forest department sources claimed that so many big number of wild elephants had never come to the Chandil range before nor had the forest department made such a request to the Railway for running trains in a restricted speed through the Chandil forest eange earlier. 
Significantly, a herd of wild tuskers  trampled a 40-year-old man, Vibhishan Mahto to death at Bhaduagora village in Kandra under Seraikela forest range late in the Saturday night. 
Police said Vibhinn had gone to see if the elephants had damaged his standing crops, but as he was returning home from the paddy field, one of the tuskers crushed him to death.