Forced to grow vegetables for a living, footballer receives financial aid
Dhanbad district administration provides cheque for Rs 15,000 to state-level sportsperson Asha Kumari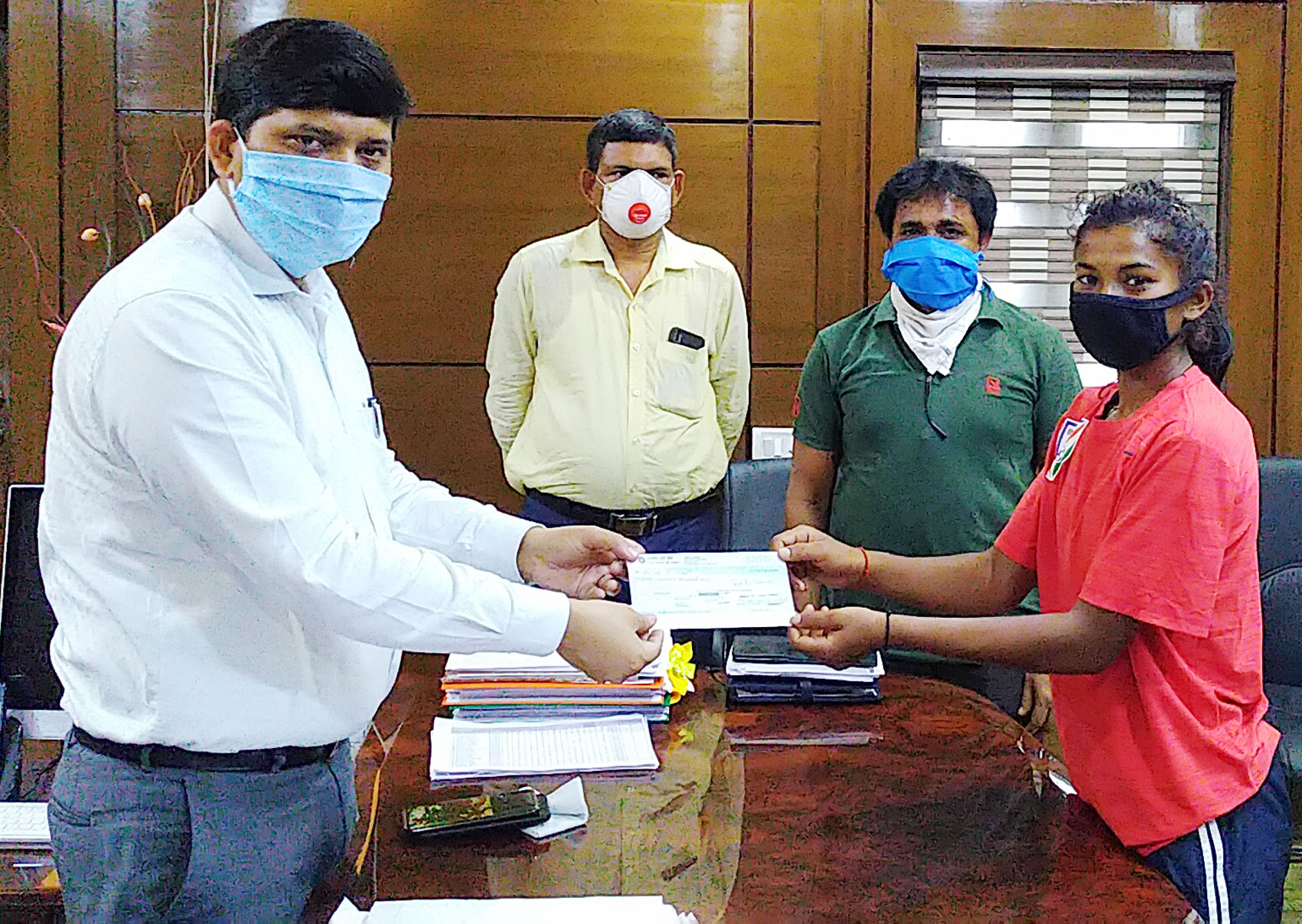 ---
|
Dhanbad
|
Published 14.06.20, 02:19 PM
---
Poverty had compelled 20-year-old footballer Asha Kumari to leave the football fields and work alongside her mother among vegetable fields instead, in Lakshmipur village of Dhanbad.
However, there was financial aid at hand for the national team aspirant when the Dhanbad deputy commissioner, Amit Kumar, handed over a cheque for Rs 15000 to her on Sunday.
Kumar gave her the cheque at his residential office in the presence of her family members and coach Uday Shankar Mishra, besides the secretary of Red Cross society, Kaushlendra Kumar and others.
He lauded her achievements and encouraged her to find a place in the national team through hard work and practice.
He also assured her of any aid in the future.
Asha is the daughter of a district-level footballer, late Dillu Ram Mahto, who passed away in 2002.
After receiving the cheque, she said, "The funds will help me and I will try to concentrate on my practice to find a place in the national team."
Asha had represented the the college and university in different inter-college and inter-university football tournaments at various places across the country, including Goa (2015); Delhi and Cuttack (2016); Punjab, Ranchi and Bhubaneswar (2017), Thimpu in Bhutan (2018); Amritsar and Bhubaneswar (2019).
She said she was committed to serving the nation and divulged that her two younger brothers and two sisters are also football players
A graduation part-III student, she said in 2019, her team won the All India Inter University Football Championship (East Zone) and in 2017, it came second in the same tournament. In Bhutan, Punjab and Ranchi, her team came third.
She told the deputy commissioner that their condition deteriorated after the death of her father in 2002 but she continued practice despite financial difficulties and represented her college and university. Her mother receives a widow's pension.
Her mother used to work as an Anganwadi Sevika but lost her job. They had to resort to growing and selling vegetables to earn a livelihood.
A Dhanbad-based state-level archer, Sonu Khatoon, 24, who was compelled to sell vegetables and wash dishes after her bow was broken in 2019, was also provided a cheque for Rs 20,000 by the district administration on June 2.
She was provided a job as a front-desk coordinator in Asian Dwarkadas Jalan Superspeciality hospital on June 12 at the behest of the district administration.