For this village near Patratu Dam, life is no picnic
Residents say politicians neglect them as they have very few votes to offer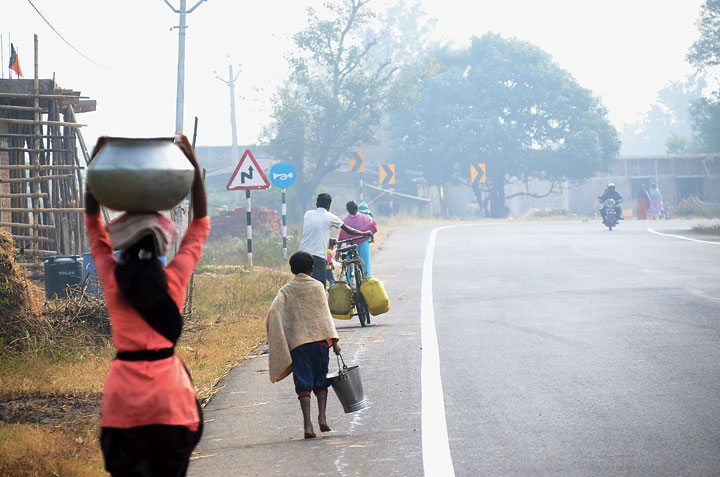 Dhankachda residents carry water containers on Ranchi-Pithoria Road in Kanke on Wednesday.
Picture by Manob Chowdhary
---
Ranchi
|
Published 18.12.19, 09:19 PM
|
---
Among the thousands of picnickers who throng Patratu Dam or drive on the scenic road cutting through the valley, hardly anyone would know about Dhankachda, a Munda village of 25 houses.
The village, alongside Patratu Road, is hardly 10km from Patratu Dam and 25km from the capital under Kanke block of Ranchi district.
If any tourist thinks that living in Dhankachda, in such salubrious surroundings, is a picnic, he or she is mistaken. Despite being close to the dam, the tribal village lacks water supply. It has no road, and for any resident to reach the main road, negotiating rocks and undulating terrain is an everyday affair.
For water, a resident — and here, mostly women fetch water, though men chip in — has to go to Lakari river that flows some 500 feet below the level of their village.
A Dhankachda youth, Sunil Munda, told The Telegraph: The water crisis is so acute here that people devote at least four hours every day to collect water. It is a major part of our day."
He added that his village fell under Kanke Assembly constituency where election took place on December 12, but they could not go to the polling booth 5km from their village because half their day went collecting water for day-to-day use and there was no will or energy left to again trudge 5km and back to vote.
Young homemaker Etwari Devi has bigger problems. She is in her final stages of pregnancy and is worried about walking to the hospital with labour pain. "I think I will have to walk at least half a kilometre of rocky terrain on way to the hospital (RIMS in Bariatu, Ranchi), where its impossible for me to be carried in any manner," she said. "I don't think it will be easy, though villagers have asked me not to worry. But yes, I am worried," Etwari said.
Villager Sunder Munda hit the nail on the head when he explained why no one paid any attention to the village. "As we are limited in number, no one pays attention to our village. Politicians have always ignored the village as very few votes come from us. Government officials have always ignored us as there is no influential person here," Sunder said.
Contacted, Kanke block development officer Gyan Shanker Jaiswal admitted the problem but said the problem would be sorted out soon.
"We dug a well in the village to arrange drinking water but found it did not serve the purpose of villagers. We would have given a water tower in the village but the entire locality is rocky and deep-hole boring is extremely difficult. I am planning to do something about water supply through Patratu Dam taking with help from the drinking water and sanitation department. Efforts are being made for road construction," Jaiswal added.