For her, age is just a number
Padma Shri Shovana Narayan enthrals audience with her graceful Kathak moves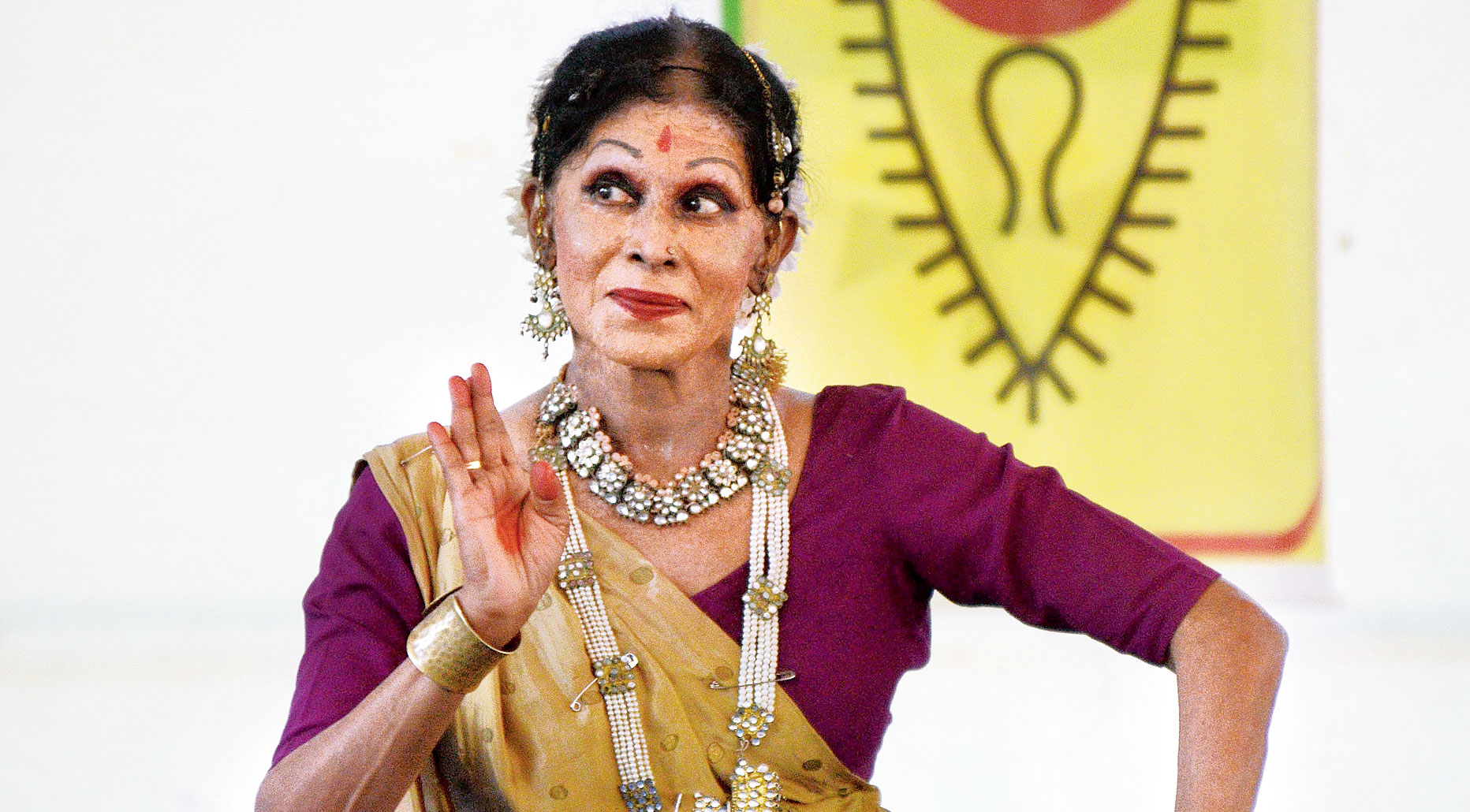 ---
Ranchi
|
Published 11.05.19, 06:32 PM
|
---
School and college students across the capital watched in disbelief as 70-year-old Kathak exponent Shovana Narayan showcased some graceful dance moves as part of a series of programmes organised across six educational institutions for three days till Saturday.
The ace danseuse, who was felicitated with Padma Shri and Sangeet Natak Akademi Award in 1992 and 2001, respectively, staged performances and interacted with students at the events organised by the Society for the Promotion of Indian Classical Music And Culture Amongst Youth (SPIC MACAY) from Thursday to Saturday.
The programmes were held at National Institute of Foundry and Forge Technology (NIFFT), Hatia; DAV Public Schools in Hehal and Bariatu, Sarla Birla Public School, Mahilong; Tender Heart School, Hatia; and Jharkhand Public School near Ormanjhi.
Narayan, a former officer with Indian Audit and Accounts Service, showcased some unique mudras to give students an idea baout Natya Shastra and how various expressions using hands, eyes and face can be utilised to depict a theme.
At DAV Public School in Bariatu on Saturday, Narayan narrated to students the association of various musical instruments with deities like flute with Krishna and damaru with Shiva.
To make the session all the more interactive, Narayan mimicked gaits of different animals like peacock, horse and elephant. She also staged mythological episodes like cheer haran (disrobing) of Draupadi, Bal Gopal as makhan-chor and a war scene from Kurukshetra.
The programme ended on a lighter note as Narayan regaled the audience with a kathak performance to the tunes of thumri.
Students and teachers were both at a loss of words after watching such spectacular performances. "I was in awe of her. She actually proves age is just a number. The way she expressed a range of emotions with her eyes was truly mesmerising," said Piyali Dasgupta, a senior teacher of DAV Public School, Bariatu.
For Narayan, it was a humbling experience. "I really had a wonderful time interacting with these students as they showed interest in the dance form and our cultural heritage," she told The Telegraph.
Founded in 1977, SPIC MACAY organises several such programmes across the country to help increase awareness among the younger generation on various aspects of Indian heritage.
"We had organised such programmes with acclaimed cultural personalities in the state in the last few years," said state coordinator of SPIC MACAY Rajeev Ranjan.