Food test raises red flags at Ranchi
Food safety officer of the district S.S. Kullu confirmed adulteration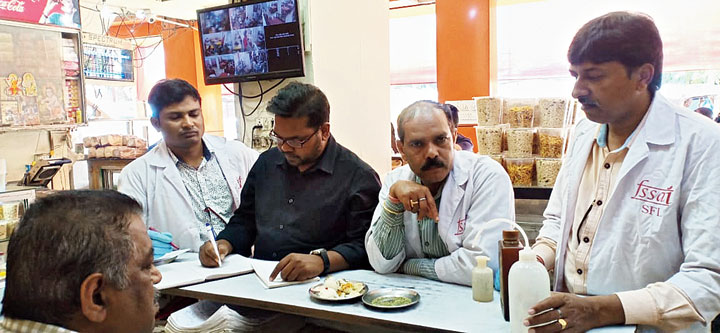 ---
|
Ranchi
|
Published 09.10.19, 06:57 PM
---
The food safety wing of the state health department, which had tested around 80 suspicious food samples in the capital's eateries and dhabas during Durga Puja, found at least 30 of them substandard or adulterated.
A health department official told The Telegraph on Wednesday that testing of edibles was done at over 50 shops on Kanke Road, Harmu Road and Ratu Road in the city as well as dhabas at Ormanjhi and Sikidiri on the outskirts.
"Food samples were collected from October 5 to 8. Majority of the items tested were milk products such as paneer and khoya. Their adulteration with maida (refined wheat flour) was rife," the official said.
Food safety officer of the district S.S. Kullu confirmed adulteration but added that a formal report from the Namkum state food testing lab was yet to come in the matter.
"Testing was done on the spot, but it appears that the concentration of adulteration was lower than in previous years. A formal report in this matter is yet to come, but we have given a verbal warning to shops selling adulterated food items," Kullu said. "Action will be taken once the formal report comes to us. But we want to clarify that the purpose of our testing is not to penalise anyone but to create awareness on health."
Kullu however added that he hoped that sweetmeat and snack sellers and restaurant and dhaba owners would heed their warnings now because they would take stringent action against adulterers during Diwali when the sale of edibles touches an all-time high.
Testing apart, Kullu said they also created awareness among owners and staff at shops and dhabas.
"We asked restaurants and dhaba owners to prepare a comprehensive water safety report on the quality of water used to prepare food and served to customers. This apart, we asked those cooking and serving food to wear airtight gloves and suggested they get regular health check-ups," Kullu said.
Crediting Ranchi sub-divisional officer Lokesh Kumar Mishra for the move, he said: "We hope it has made a difference."