Focus on inclusive education
The 11-point manifesto highlighted issues aimed at improving the education system in state-run schools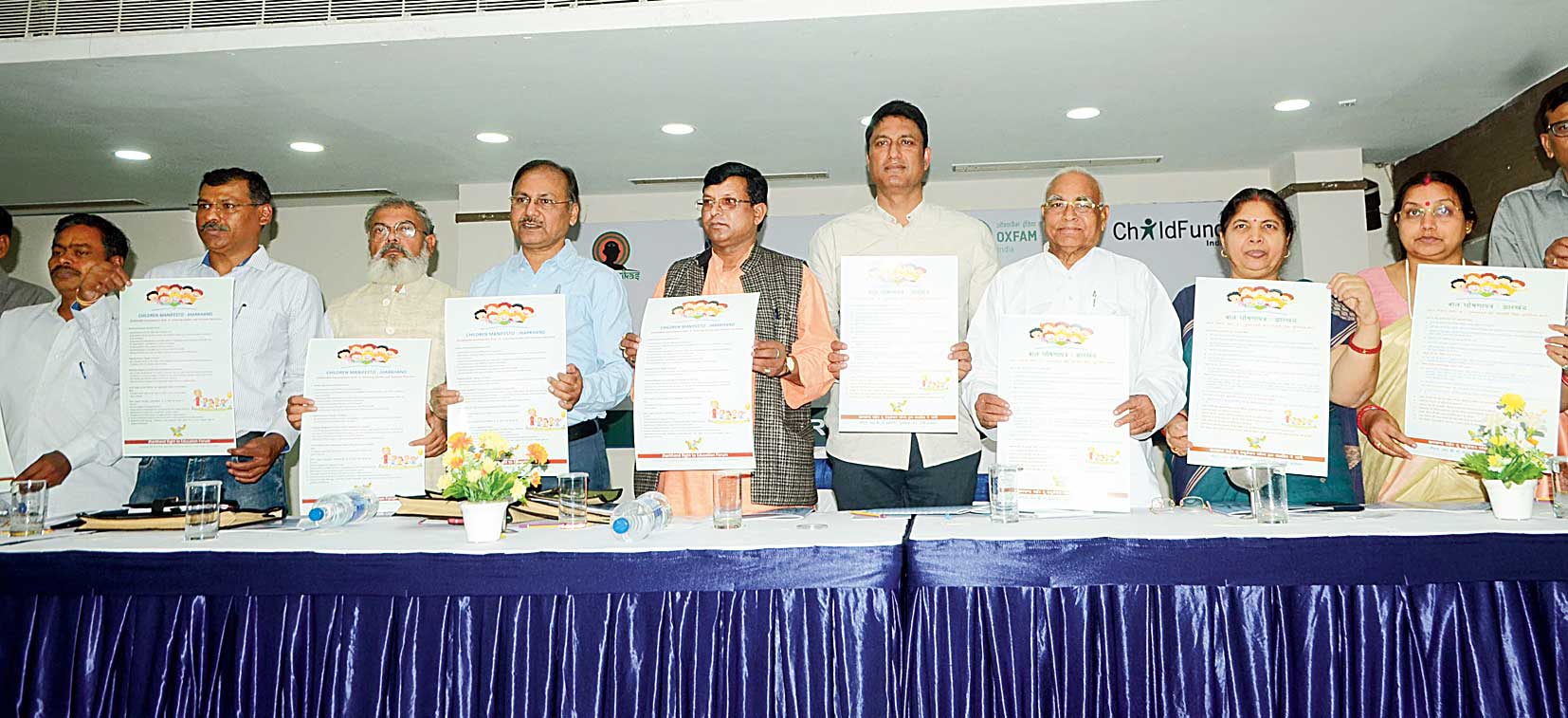 Kanke MLA Jitu Charan Ram (in orange kurta) and others release the manifesto on children's education in Ranchi on Thursday.
Picture by Prashant Mitra
---
Ranchi
|
Published 28.03.19, 06:58 PM
|
---
NGO Jharkhand Right to Education Forum, which works for the implementation of Right to Education Act 2009 in the state, released a manifesto on children's education on Thursday.
The 11-point manifesto, meant to be shared with political parties, highlighted issues aimed at improving the education system in state-run schools.
The manifesto demands quality and inclusive education for all and prevention of further closure or merger of schools that leads to an increase in the number of dropouts from the weaker sections of the society.
It also demands adequate budget provision and its utilisation, social audit of government schools, multi-lingual education system up to Class V, promotion of traditional games, grievance redress mechanism and addressing of issues like child marriage and trafficking.
The meeting was attended by Right to Education activists from across the state, members of state-level school management committees, teachers, panchayat representatives and members of social outfits.
"The education system must be improved and children encouraged to attend schools as it helps them lead a better life," Tamanna Parveen, an activist from Deoghar, said during the discussion.
Rubina Parveen, also an activist from Deoghar, educated girls would encourage her children to go to school when she became a mother.
"Things have surely improved after RTE Act came into effect, but quality education is still a far cry," lamented Narendra Mishra, an activist from Khunti.
He said teachers should be relieved from non-academic work so that they could devote more time to students.
"There are about 7 lakh teacher posts vacant in the country. They should be filled up," forum convener A. K. Singh said, adding allocation of 6 per cent of the country's GDP to education, as suggested by the Kothari Commission in 1960s, should be granted to improve the scenario.
He said support for differently-abled students and special drive for inclusion of children belonging to particularly vulnerable tribal groups needed special attention.
BJP MLA Jeetu Charan Ram and Congress leader Ajay Nath Shahdeo were present at the event. "No one can deny that education is the key to development and has no substitute," Ram said, adding that it should not be overlooked.
Shahdeo said quality education in government schools was a must for empowering children.
Forum convener Singh said they would hand over the manifesto to representatives of JMM, AJSU, JVM and AAP who failed to turn up.