Focus on farm & food processing technology
Seminar conducted in hybrid mode by IIT (ISM) Dhanbad was titled 'Assessing the Techno-Commercial status of TRL-6 and above Technology in the Field of Food Processing and Agriculture'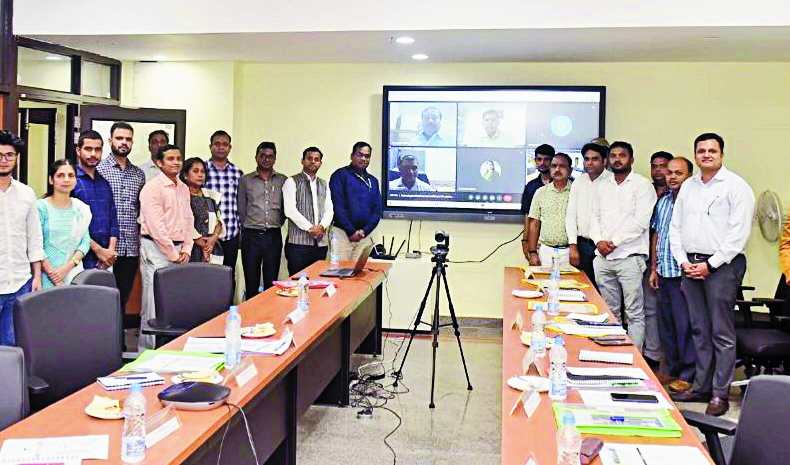 Experts deliberate at the seminar in IIT (ISM) Dhanbad on Tuesday
Shabbir Hussain
---
Jamshedpur
|
Published 01.10.22, 12:37 AM
|
---
The importance of technological innovations in the agriculture and food processing sectors was highlighted at a seminar hosted by the department of management studies at the Indian Institute of Technology (Indian School of Mines) in Dhanbad on Tuesday.
Experts from academic institutes and research organisations and technology entrepreneurs from the field of agriculture and food processing deliberated on the issues and challenges of technology implementation in these sectors during the seminar titled "Technology Readiness Level (TRL) and its application in food processing and agriculture technologies".
The seminar was conducted in hybrid mode by IIT (ISM) Dhanbad under the project titled "Assessing the Techno-Commercial status of TRL-6 and above Technology in the Field of Food Processing and Agriculture".
The seminar and project, sponsored by the department of scientific and industrial research (DSIR), Union ministry of science and technology, aims to create awareness regarding the need for assessing the techno-commercial status of TRL-6 and other technologies in these sectors. The brainstorming sessions by experts will create a knowledge base for the implementation of these technologies in the agriculture and food processing industries.
Principal investigator of the project, Shashank Bansal, in his address outlined that the concept of TRL-6 evolved from NASA, USA, and is currently used by experts to assess the technological readiness level of various innovative technologies in all sectors.
IIT(ISM) Dhanbad director Rajiv Shekhar highlighted the importance of technological innovations in agriculture and food processing sectors, particularly in developing countries like India and urged the experts to build affordable technology for the farmers to realise the dream of the government to double the farmer's income in a sustainable manner.
Sujata Chaklanobis, a scientist at DSIR, presented the significance of this project and highlighted the commitment of DSIR to fund such research projects for the development of the nation.
Head of the agri-business startup initiative, Samunnati Financial Intermediation and Services Private Limited, Chennai, B. Gopalakrishnan, demonstrated the commercialisation of innovative technology for the agriculture sector and discussed the importance of technology readiness level, market readiness level (MRL) and investment readiness level (IRL) for creating sustainable ventures in this area.
Shivnarayan Nishad from the CSIR-National Institute of Science Communication and Policy Research, New Delhi, focused on the status of technology readiness level of various technologies in the agricultural sector.