Flak for Athawale's statement inviting JMM to join NDA
JMM central general secretary and party spokesperson Supriyo Bhattacharya called the Union minister a 'political clown'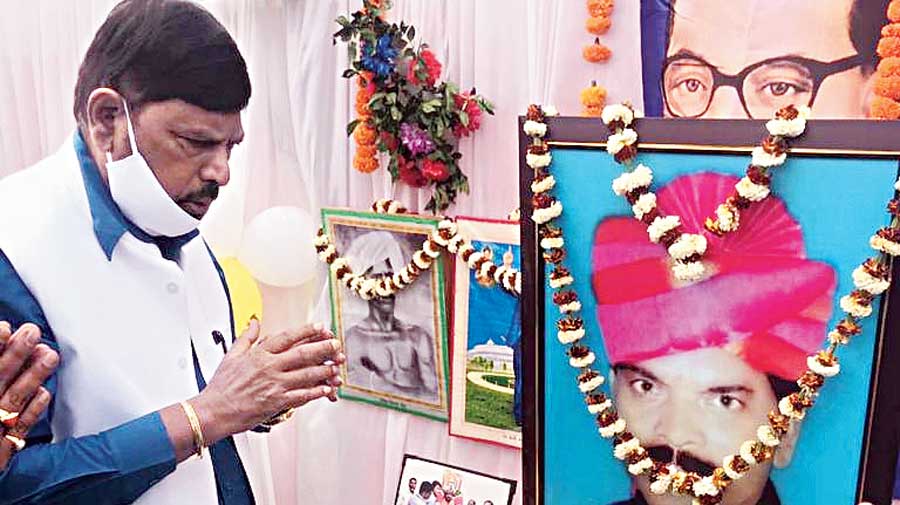 Union minister Ramdas Athawale pays tribute to RPI national general secretary K.R. Nayak at Ramgarh, Jharkhand, on Tuesday.
Bhola Prasad
---
Jamshedpur
|
Published 18.02.21, 01:22 AM
|
---
Members of the ruling UPA in Jharkhand have criticised Union minister Ramdas Athawale's statement inviting the JMM to join the BJP-led NDA to ensure the development of the state.
Athawale, the Union minister of state for social justice and empowerment, had come to Ranchi on Tuesday to meet the relatives of the deceased national general secretary of his Republican Party of India, K.R. Nayak, at Ramgarh. While addressing the media in Ranchi on Tuesday, Athawale said: "I appeal to Shibu Soren (JMM national president) and Hemant Soren (chief minister and JMM working president) to join the NDA. Then there will be a BJP and JMM government in the state. The JMM can also get access to power in Delhi, which can be used for the state's development. They must think about it."
"The statement by a cabinet minister in the BJP-led NDA government at the Centre shows the desperation of the party to form a government in the state. It seems they are not able to digest the smooth functioning of the Jharkhand government. We know that no minister speaks about anything without the permission of Prime Minister Narendra Modi and Amit Shah. We can assume that this statement also has their support," said Jharkhand Congress executive committee member and party spokesperson Kishore Sahdeo.
The Congress leader brushed aside Athawale's statement as "childish".
"Ramdas Athawaleji should at least maintain the dignity of a MP and a minister and not utter such childish and baseless statements. We had earlier heard such statements made by BJP MP and party's state president Dipak Prakash during the Assembly bypolls which they lost badly," added Sahdeo.
JMM central general secretary and party spokesperson Supriyo Bhattacharya called Athawale a "political clown".
"The minister is nothing but a political clown without any ideology who has himself said in Parliament to support that party which is in power. One should not take such statements seriously as the UPA alliance in Jharkhand is rock solid and performing well as can be seen in the last year's performance despite the Covid-19 pandemic," said Bhattacharya.
The JMM was a partner in the NDA government in the state between 2009 and 2013, when chief minister Soren served as the deputy chief minister. The alliance broke in January 2013 leading to the fall of the Arjun Munda government.
In March last year, Athawale was in the news when a video in which he along with Chinese consul-general in Mumbai Tang Guocai and Buddhist monks were seen chanting "Go corona, go corona" at a prayer meet surfaced on social media.
The video was reportedly shot at Gateway of India on February 20, 2020, during a prayer session to stop the spread of the coronavirus.