Fire-hit families with legal titles flag rehab issues
There are 28,000 legal title-holder families living at 595 underground fire-affected areas of Jharia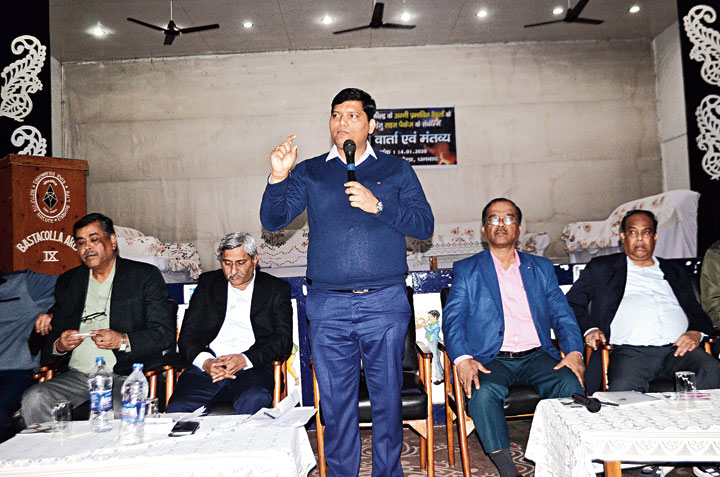 ---
|
Dhanbad
|
Published 14.01.20, 06:43 PM
---
Jharia Rehabilitation and Development Authority (JRDA) on Tuesday held a meeting with the heads of families owning legal titles who live in the underground fire-hit area of Jharia to seek suggestions on their rehabilitation and resettlement.
There are 28,000 legal title-holder families living at 595 underground fire-affected areas of Jharia coalfield region, making rehabilitation a long and complicated procedure.
Tuesday's three-hour meeting at the Bastacola-based Officers' Club of the Bharat Coking Coal Limited, chaired by Dhanbad DC Amit Kumar, aimed at preparing the compensation package for legal title holders.
Chairman-cum-managing director of the BCCL P.M. Prasad, JRDA's resettlement and rehabilitation in-charge Kumar Bandhu Kachhhap were also present at the meeting where the the president of Jharia Coalfield Bachao Samiti Murari Sharma presented a 12 point charter of demands.
The demands included for the evaluation of land and housing property based on underground fire-affected areas on the basis of existing market rates by an independent agency, insurance worth Rs 10 lakh for each rehabilitation beneficiary, provision of medical treatment for the rehabilitated persons from the government, among others.
Sharma later told the media that they also flagged concerns over the slow progress of rehabilitation. "The JRDA was formed in 2004. So far, only 3,501 encroacher families of total 72,000 have been rehabilitated. The rehabilitation of 28,000 families who hold legal titles is yet to begin. The rehabilitation packages are different for both categories."
Proposals presented by representatives of various organisations such as the Jharia Chamber of Commerce, Jharia Coalfield Bachao Samiti, among others, were thrashed out. Ideas bounced included the construction of a model township and an increase in monetary compensation package for the legal title holders from the figure given in the Jharia master plan.
Addressing the meeting, DC Kumar said: "A precis on the basis of talks and suggestions today (Tuesday) made by various stakeholders will be prepared and notes submitted to relevant authorities (read the ministry of coal)."
The DC added that with Tuesday's meeting, a channel for regular communication was set up among the district administration, BCCL, JRDA and legal title-holders living in the fire-hit areas. The JRDA has decided to hold regular such meetings with the families.