Fear spurs trade bandh in Ranchi
Jittery businessmen say they have no other choice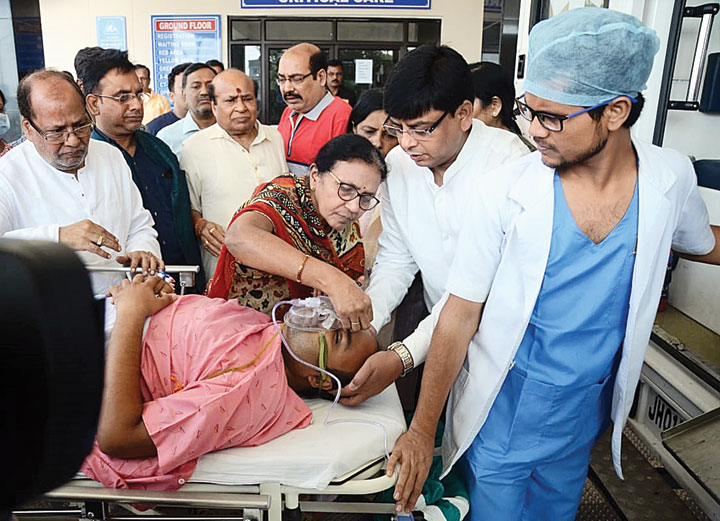 ---
|
Ranchi
|
Published 20.10.19, 07:25 PM
---
The Federation of Jharkhand Chamber of Commerce and Industries (FJCCI), the apex body of the state's trading community, will observe a half-day token strike on Monday to protest the spurt in crime, especially the gun attack on two capital jewellers on October 14.
FJCCI president Kunal Ajmani, speaking to the media at Ranchi's Chamber Bhavan on Sunday afternoon, said: "All business establishments across the state will be closed till 2 pm on Monday."
Asked if all business establishments would respect their decision, he said it was a unanimous decision of the FJCCI and its affiliated organisations. "Everyone will observe the bandh voluntarily, be they the transporters or potato-onion traders," Ajmani said.
He added representatives of some social organisations such as the Prantiya Marwari Sangh and Punjabi Hindu Biradari also expressed their solidarity with the cause.
FJCCI vice-president Ram Bangar said businessmen by nature were peace-loving people and normally avoided agitations. "But when criminals entered a jewellery store in the heart of the city in Lalpur on October 14, posing as customers, and shot at the two owners, we were aghast," Bangar said.
Om Prakash Agarwal, vice-president of Prantiya Marwari Sangh, a social outfit, said even the masses were worried, because "incidents of snatching and loot have become very common these days". "The deteriorating law and order is eroding people's faith in the administration," he added.
Ajmani said it was nearly a week since the October 14 shooting at the Kheriwal jeweller brothers but they were yet to hear anything positive about the arrest of culprits.
Asked if a traders' bandh before the Dhanteras-Diwali season would prove detrimental to earnings, Ajmani said: "Festivals will come and go but human life is of utmost importance. One can earn only when one is alive and has a sense of well-being, isn't it?"
Ranchi SSP Anish Gupta told this paper they were making all efforts to nab the culprits of the October 14 gun attack. On Monday's bandh, he said: "Such protests only divert attention."
Break-in shocker
Poor policing was once exposed in the capital when unidentified persons decamped with Rs 3.45 lakh in cash and medicines worth Rs 75,000 in the wee hours of Sunday from a 17-year-old pharmacy near the residence of former MP and BJP leader Yadunath Pandey at Kali Babu Street near civil courts.
Rajdhani Drug Store owner Nand Kishore Lal detected the break-in around 2.30am when he reached his shop from Nagarmal Modi Seva Sadan after collecting a supply order from another medical store, Amrit Medical, which supplies medicines to hospital 24/7. "I noticed the shutter half opened from one side and showcase near it pushed inside," Lal said.
There were more gaffes in store. Though Lal said he informed a PCR van immediately and gave a written complaint to Kotwali police in the morning, Kotwali OC S.N Mandal told this paper in the evening that he had not got a copy of the FIR. was yet to registered in this connection.