Families of deceased JMADA employees protest employment demand
Apathy of the civic body draws flak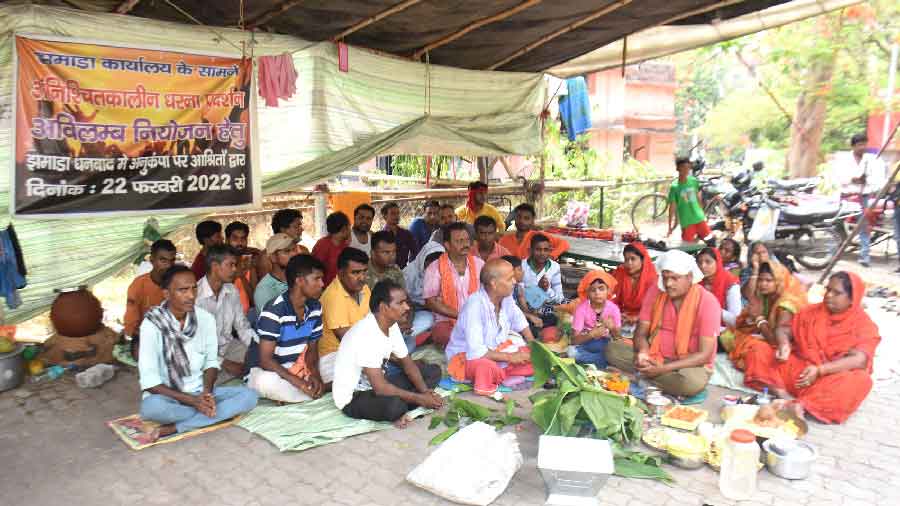 Dependents of civic body JMADA deceased employees of Dhanbad perform ritual of Puja and Hawan during their Dharna in front of the JMADA Head Office
Gautam Dey
---
Dhanbad
|
Published 17.05.22, 09:15 PM
|
---
Dependents of around 35 deceased employees of Jharkhand Mineral Area Development Authority (JMADA) on Tuesday invoked god by performing Havan at the Dharna site outside JMADA office demanding jobs on compassionate ground for themselves.
The protesters, who carried out the agitation under the banner of JMADA Mrit Karmchari Ashrit Sangh  raised slogans and waved banners, posters, placards bearing different messages drawing the attention of the local authorities as well as state government towards the poor financial condition of their family,
The agitators who began the ritual  during the morning at around 11 am continued the  function till around 2 pm amidst the chanting of hymns.
Talking to The Telegraph Online today, Arvind Kumar, son of a deceased fourth grade employee of water supply department of JMADA, Ajay Verma said, "My father died during the service period in 2012 and since then we have been waiting for jobs for anybidy in the family. I have been working at a PDS shop on a salary of Rs 4500 which is too insufficient to meet the  expenses of the family of six including my three children, besides my wife and mother.
"Such is condition of family that I could not admit any of my children in schools despite the fact that eldest one has turned 7," divulged Kumar. 
"The civic body where at one point of time more than 2800 employees were working is facing acute shortage of workforce with only around 500 working staff and this is also affecting our day to day work," said Md Ajharuddin Khan son of a deceased disinfector of JMADA, Md Mujibuddin, who died due to cardiac arrest in 2015.
"The previous logic to the JMADA authorities of financial crunch affecting initiation of employment also doesn't hold ground now as the financial condition of the civic body has considerably improved following regular collection of Bazar fee and  also due to increase of JMADA share from 50% to 80% in Bazar fee realization,"said Khan and added that though, Satyendra Kumar, the Managing Director of JMADA has written to the state government on April 18 this year recommending for initiation of employment process for dependents of deceased employees but the state government is yet to take any action in this regard.
This time we are not going to end our stir before getting jobs as we have been deceived several times earlier during our agitation in  the name of false promises made by the authorities, including the assurance given in 2017 by Dharnidhar Mandal, then Managing Director of JMADA," said Khan and added that  many of the dependents are skilled with degrees of technical courses.