Expand rural job scheme: Activists
'The base of the MGNREGA beneficiaries needs to be broadened by including more deserving people as its beneficiaries'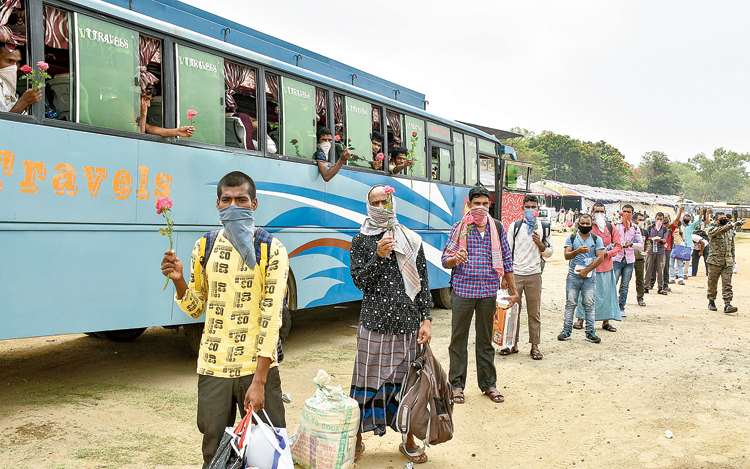 Migrant workers from Kerala stand in a queue to board buses to reach their native places after arriving in Dhanbad
(PTI)
---
Ranchi
|
Published 07.05.20, 12:09 AM
|
---
The rural job guarantee law can be a saviour for scores of workers who have lost their jobs during the ongoing lockdown and are returning to their villages, a group of social workers have underlined.
Jharkhand NREGA Watch, a group of social workers who describe it as a forum of concerned citizens, have demanded inclusion of more rural people under the Mahatma Gandhi National Rural Employment Guarantee Act (MGNREGA).
"We have written a letter to the joint secretary in Union rural development ministry on May 1 and placed our demands," said the forum's convener, James Herenj, adding that they have also sent the copies of the letter to the chief secretary, rural development secretary and MGNREGA commissioner of the state.
"The base of the MGNREGA beneficiaries needs to be broadened by including more deserving people as its beneficiaries," he told The Telegraph, adding that their number should be increased to about 40 lakh.
There are about 29.19 lakh people who are already registered under the job scheme, about 9 lakh migrant workers are willing to return to their homes in the state and there were already many who were left out earlier, Herenj explained when asked to justify the figure of 40 lakh.
"The government must work fast as this job lasts up to around June 15 when it has to be suspended because of monsoon," he said, adding that many lives would be saved if the rural work schemes are planned and sanctioned quickly.
They also raised certain other demands in their letter to the joint secretary to the Union government, he said.
Now that the panchayat offices are not functioning properly, the process of registration of MGNREGA should be simplified by allowing prospective beneficiaries to get them registered through phone.
"The wage rate should also be revised," Herenj said, adding that the daily wage of Rs 194 should at least be made on a par with the minimum wage for agriculture labourers in the state that stands at Rs 294.44 per day.
They have also demanded that a part of their wages be paid in food grain so that they get something ready to cook, he said, adding that the system was earlier followed in the state.
"The government has already decided to distribute 10kg of food grain to the needy for two months but some assets such as well and ponds can be created in rural areas if such people are brought under MGNREGA," Herenj said.
He said 54 cubic feet (cft) of earthwork done by a person should be treated as a man-day instead of the normal 73 cft as the earth is hard in the state and it is difficult to cut or dig it during summers.
Middlemen who are normally associated with political parties interfere too much in MGNREGA schemes that should be abolished, said an activist, adding that would ensure the needy get jobs under the rural schemes.