Excise squads to cork festive hooch trade in Jharkhand
The demand for liquor jumps during the festive season, traders try to earn extra by manufacturing hooch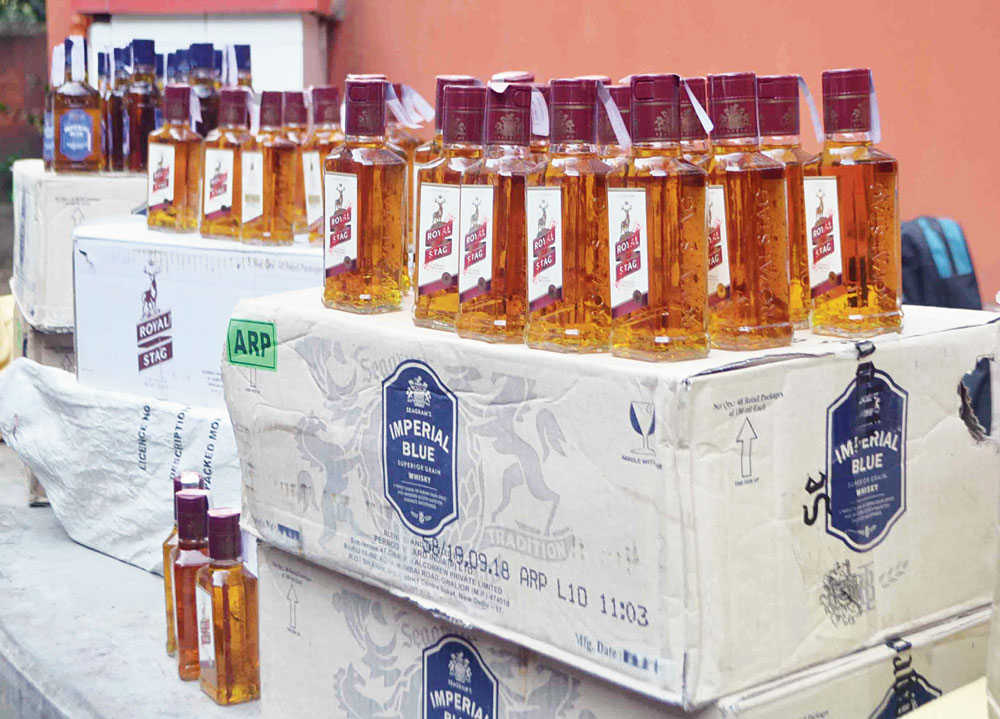 Confiscated liquor at the excise office in Sakchi, Jamshedpur, on Monday
Picture by Animesh Sengupta
---
Jamshedpur
|
Published 08.10.18, 07:54 PM
|
---
Three special excise squads have been formed to stop the manufacture and sale of spurious liquor in and around the city during Durga Puja, the move coming in the wake of six hooch deaths in Ranchi earlier this month.
Manoj Kumar, the assistant commissioner of Jharkhand excise department, Jamshedpur division, said, "There is a strong probability that the sale of illicit liquor will go up in the city during Durga Puja. To prevent hooch traders from manufacturing and selling illicit liquor in the city, we have formed the squads."
He added that although his officials were on the job to crack down on illegal distilleries and liquor dens, the special squads were formed to add more teeth.
"The squads will comprise magistrates and excise officials. We will also keep local police in the loop to provide support whenever our teams need their assistance. While two teams have been deputed in the city, the third will be deployed in Ghatshila," Kumar added.
He added that Jamshedpur Notified Area Committee (JNAC) city managers Ravi Bharti and Ranjan Pandey would be deputed with the raiding squads in Jamshedpur, executive magistrate Devendra Kumar Das would be stationed in Ghatshila. The squads will have the power to arrest the guilty and impose fines, he said.
On August 1, 2017, the Jharkhand government took over the retail liquor trade and started running 69 outlets in the city and five in the rural areas of East Singhbhum. Across the state, there are 210 such outlets. Liquor is sold from 1pm to 10pm in the city and 1pm till 8pm in the rural areas.
Sources said since the demand for liquor jumps manifold during the festive season, traders involved in the business try to earn some extra bucks by manufacture hooch.
A senior excise official said many people who were earlier associated in the legal liquor trade have switched over to hooch business where profits are much more.
"We have so far destroyed over half-a-dozen illicit Indian Made Foreign Liquor (IMFL) factories around Jamshedpur. During investigations, we found that many people who owned liquor shops earlier have started manufacturing the illicit liquor," an official, who refused to be named, said.
Late on Monday afternoon, excise officials seized with nine cartons of illicit IMFL worth over Rs 30,000 on Dhalbhum Road under Sakchi thana area. The accused, Devendra Dwivedi, a resident of Sonari, was smuggling the consignment from Ghatshila to Sonari when excise officials intercepted his car and arrested him.