'Ex' factor haunts Ajsu chief
Sudesh Mahto battles Amit Shah's tag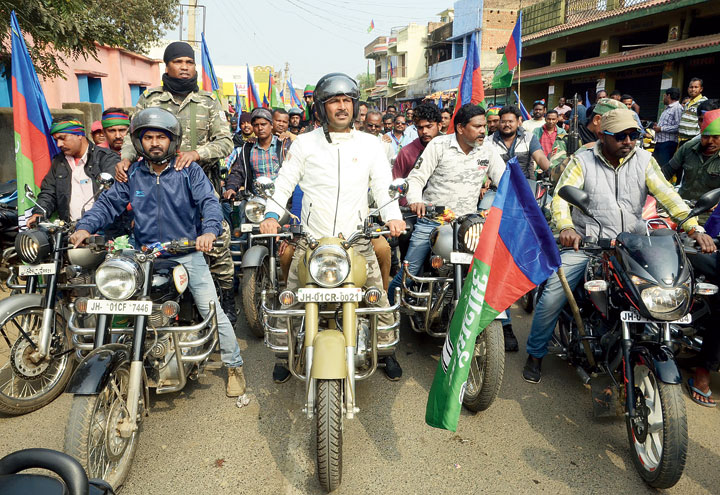 ---
|
Silli
|
Published 10.12.19, 07:33 PM
---
The business of elections is booming in Silli, the Assembly seat where Ajsu Party chief Sudesh Mahto is taking on the JMM's sitting MLA Seema Devi.
Youths zip by on fancy bikes, flashing party flags and victory signs. The buzz is that they get free fuel, three meals a day plus snacks. Handsome money also changes hands, the people say.
"These are NREGA (the rural job guarantee law) workers of political parties," quips Nityanand Mahto of Banta village, busy harvesting his paddy crop. "You won't find anyone jobless now. Everyone has got employment — of flashing flags and raising slogans. Some are so clever that they earn from all parties in the fray."
The hills of Angara and Saraivan crisscross this constituency, around 63km east of Ranchi; standing paddy crop on the foothills ready for harvest look like a thick, golden carpet.
The hills often erupt with gunfire — they are part of the red corridor of Left-wing extremists — and clashes between elephants and humans. At present, paramilitary troopers are carrying out area domination exercises.
"What is dominating the area now is the clash between Sudesh and Seema," says Radhika Mahto, a resident of Nagedih village.
The Ajsu Party has officially divorced the BJP this Assembly election. Sudesh has sworn that he will have no truck with the BJP, even though BJP national president Amit Shah has been saying that Ajsu will remain an ally. The BJP has not fielded any candidate from Silli.
Sudesh, once the lord of Silli, got his first jolt in 2014 when he was defeated by a JMM rookie, Amit Mahto, by 29,740 votes.
Four years later when by-election in Silli was held after Amit was convicted for assaulting a government official, Sudesh was again defeated — by Seema, Amit's wife, by 13,510 votes.
"We will defeat him for the third time and the margin will be humiliating. We will ensure his permanent retirement from politics," declares Seema, a homemaker-turned-politician.
Sudesh admits that in his attempts to expand the base of his party across Jharkhand he forgot to take care of his constituency.
"In the last three months I visited every village of my constituency, which I had done some 18 years back. In my absence some people started creating differences and disharmony. People have realised that electing the JMM was a mistake and they will undo that this time," he says.
On Tuesday, the last day of campaigning, Sudesh undertakes a bike rally with over 2,000 supporters. Former state Congress president Pradeep Balmuchu, who recently joined the Ajsu Party and got the ticket from Ghatshila, joins the rally. Shouts of "Jharkhand ka CM kaisa ho Sudesh Mahto jaisa ho" fill the air. "This is a spontaneous crowd and they are self-driven. This is their love for me," says Sudesh.
The JMM is targeting him as the epitome of opportunistic politics.
"Sudesh is a calf of the BJP and Raghubar Das who will graze in the field all day and in the evening get tethered in the BJP's cowshed," says Virendra Kumar Mahto, a JMM supporter.
The Ajsu Party has coined counter slogans like "ask your father to vote for Ajsu, ask grandfather to vote for Ajsu" — which sound catchier in the vernacular — that party supporters, specially women in villages, sing.
"Not only Muslims, even tribals have deserted the JMM and this party is going to be defeated," Sudesh says. "We have snatched Kolhan from the JMM and we will throw away the JMM and the BJP from Santhal Pargana also. We will get sufficient number of seats to form the government. The JMM which once had formed government with the BJP is seeking explanation from us about our association with the BJP. From the days of undivided Bihar, JMM patriarch Shibu Soren remained part of every government."
His broadside against JMM working president Hemant Soren — Shibu's son and the Opposition's CM candidate — is: "I am a son of the soil and he is a prince born with a silver spoon in his mouth."
Seema Devi is telling voters not to expect Sudesh to fight for them.
"These five years he enjoyed power with the BJP and remained silent over wrong policies of the Raghubar Das government. He had not helped you when the forest department had issued notices to you to vacate 700 acres land at Jintu panchayat. I had forced the department to withdraw its order because I had fought for you. Your vote will help the JMM to form government and that will be your government," she says in a predominantly Muslim village close to Lagam where the walls of an industrial wastage deposit pond of an alumina plant of Hindalco Industries had collapsed, killing a number of people.
Production is yet to resume, and thousands have been left unemployed. Sudesh is native of Lagam.
"Ask Sudesh about his relation with the company which had constructed the pond and you will know everything," says Mohammed Yakub, a village resident.
But Silli is dominated by Mahto voters, followed by tribals.
"Both Sudesh and Seema are from the Mahto community that will decide the election," says Prafulla Das of Lota panchayat.
The local BJP workers and voters seem confused.
"The BJP has not fielded any candidate and we have not been given any direction by the state leadership on whom to vote for," says Amit Mandal; a BJP supporter and native of Gaujhitoli. "How can we vote for our arch rival, the JMM? How can we vote for Sudesh, who cheated us? How can we vote for the JVM candidate, Umesh Mahto? Amit Shah has left everybody confused."