Eviction drive to ease traffic pain on Tata-Kandra Road
Decision taken after a youth was arrested for asking a fruit vendor to remove his cart from the road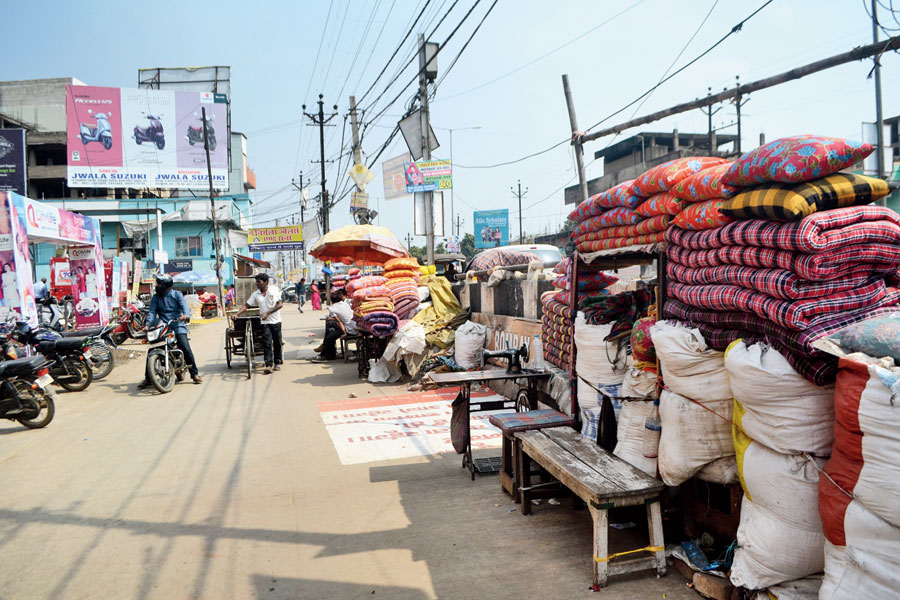 Bedding-sellers with their products on the service lane along the Tata-Kandra Road in Adityapur, Jamshedpur, on Friday.
Picture by Animesh Sengupta
---
Jamshedpur
|
Published 28.02.20, 06:44 PM
|
---
Seraikela-Kharsawan district administration has decided to keep Tata-Kandra Road and its service lanes free from encroachment.
The decision was taken a day after a 28-year-old man, identified as Satish Singh, was arrested for engaging in an altercation with a fruit vendor for causing traffic congestion by conducting business along the four-lane road in Adityapur.
Currently, fruit vendors, vehicle mechanics and sellers of mattresses and pillows occupy the service lanes on either side of the Tata-Kandra Road in Adityapur.
Some vendors keep their fruit carts on the main road, causing problems for pedestrians and drivers alike.
With traffic cops turning a blind eye, commuters are sometimes forced to talk some sense into the vendors.
On Thursday, Satish was arrested by Adityapur police for asking a fruit vendor to remove his cart from the mishap-prone road.
On Friday, the Kadma resident was sent to Seraikela divisional jail after being produced before a judicial magistrate in Seraikela court.
Officer in-charge of Adityapur police station Shusma Kumari said they arrested Satish because he had become very aggressive.
"We followed the instructions of Seraikela-Kharsawan superintendent of police Karthik S and arrested the youth," the OC said.
Local residents have turned wary after Satish's arrest. "Arresting someone for trying to keep a road encroachment-free beats any logic," a local resident said.
"We arrested the youth because he was creating law-and-order problems while forcefully removing the fruit vendor from Tata-Kandra Road," Karthik said.
The SP said no pushcart or makeshift shops would henceforth be allowed on either side the Tata-Kandra road or its service lanes.
"We are also aware of the problems that commuters face. We have therefore decided to keep the roads free from encroachments, even temporary ones. An eviction drive will be started shortly," Karthik added.