Epic grandeur at Dhanbad Kali Puja
Artisans recreate scene from Mahabharat in Hirapur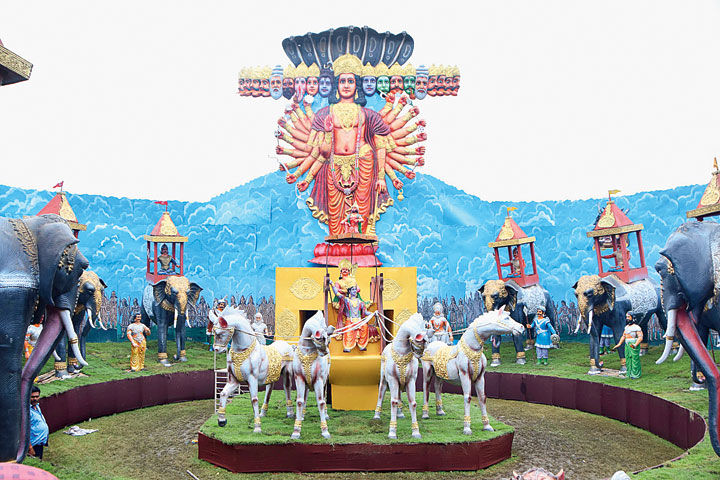 ---
|
Dhanbad
|
Published 26.10.19, 06:36 PM
---
If there are Durga Pujas with themes, why not Kali Puja pandals with themes? Sri Sri Shyama Puja Committee at Jharnapada, Hirapur, has come up with the theme of the Mahabharat this year.
This year, the highlight of the well-known 40-year-old Kali Puja celebrated at Park Market is the Vishwaroop or Viratroop, the magnificent revelation of lord Krishna before Arjuna on the battlefield of the Mahabharata.
An 18-member group of artisans from Digha in Bengal is recreating the battlefield. Amit Mohapatra, who heads the team of artisans, told this paper earlier on Wednesday that they were working day and night to give "grandeur" to the theme and live up to the organisers' expectations despite inclement weather being a hindrance.
This apart, the theme of environment protection is also visible in the pandal.
The idol of Goddess Kali and all models surrounding the idol are made of fibre through which the Puja committee has tried to spread the message of environment conservation. Among the models at the pandal is also a woman protecting her child in the form of a sapling.
S.C. Mitra, treasurer of the Puja committee, said: "As this is the 40th year of our Kali Puja, we have tried to make the pandal and its surroundings special for the visitors who come every year."
Mitra added that they had engaged artisans from Digha with the brief of recreating one of the most iconic scenes from the Mahabharat.
"The Vishwaroop has the essence of Mahabharata. We have also recreated the war scene in the form of moving chariots in the battleground and warriors fighting atop elephants with traditional weapons such as swords, spears, bows and arrows, etc," said Mitra.
He added that a small fair with food stalls and rides for children such as swings and slides would also be arranged on the ground beside the pandal for families to enjoy.