English marks the spoilsport in ISC, ICSE exam results
Overall percentage dips, but most students happy pending paper scores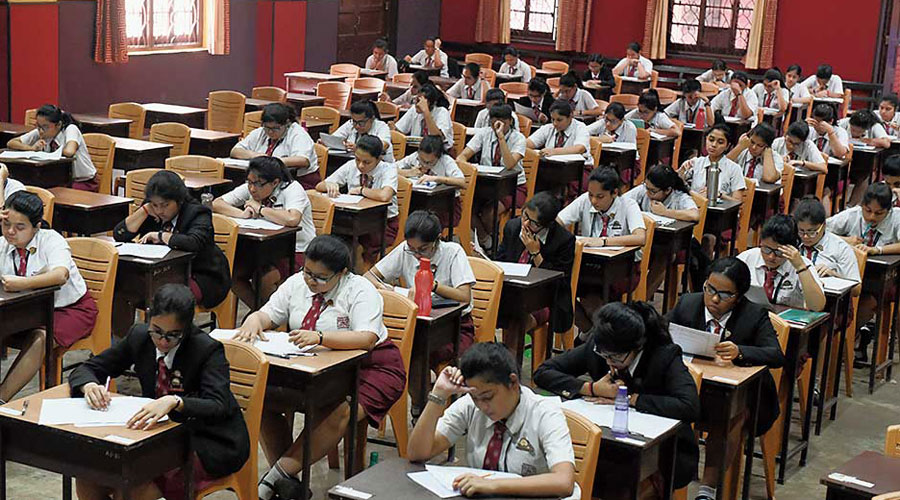 ---
---
Students who appeared for ICSE and ISC exams earlier this year are happy with the marks they received in papers that were cancelled because of the pandemic, but marks in English appeared to be the sore point among most.
According to principals of schools in Jharkhand, students were by and large happy and satisfied with the ISC and ICSE results declared by the Council for the Indian School Certificate Examinations (CISCE) on Friday.
Although the overall percentage of some high-scoring students looks similar to previous years, they said, the overall percentage had dipped in case of several students because of their English language scores, particularly in ICSE.
"There could be a lot of factors that affected the entire system. But according to initial observation of teachers, the English language marks in ICSE appeared to be less compared to previous years," said principal of Dayanand Public School in Jamshedpur Swarna Mishra.
Mishra, who is among the convenors of ISC schools in Jamshedpur, said the number of students scoring 90 per cent and above was less this year.
Principals agree that there could be multiple factors behind this trend, which needed to be analysed.
In ICSE, the council mentions language and literature marks separately in the mark sheet. In ISC, the marks are clubbed and expressed as a single percentage.
Most of the meritorious students in ICSE have scored between 85 and 95 per cent in the English language paper as compared to 90-95. But for average students there appeared to be a stark difference between English language and literature marks. Most scored between 70 and 80 per cent in English language compared to 85-90 in literature. Hence, the number of number of students scoring 90 and above in English language has dipped, which has impacted their overall percentage.
Principal of De Nobili School, CMRI, Dhanbad, Father Joseph K.A said, "Language is less scoring than literature. But this year, only six students have scored beyond 90 in English language in our school. In earlier years there number would be 20 or more."
Students who want a re-evaluation of their papers can apply online at www.cisce.org from July 10 to 16. In a month or two, the council is expected to announce dates for "improvement exams" in the papers that students could not write because of the pandemic.

Although the council did not publish a merit list this year, schools across Jharkhand have compiled their data. As per that, Adrika Ghosh of Sacred Heart Convent School, Jamshedpur, seems to be the highest scorer in ICSE with 99.4 percentage. Ayush Kumar, a pure science student from Rajendra Vidyalaya, Jamshedpur, scored the highest in ISC with 99.5 per cent.
"I am quite happy with the results. Though we missed answering four papers, I am happy with the marks that were given based on the internal assessment and the special formula," said Adrika who scored 100 in English literature and 95 in English language.