Door-to-door drive on Stan Swamy
More than 100 members of Adivasi Adhikar Manch formed a human chain to express solidarity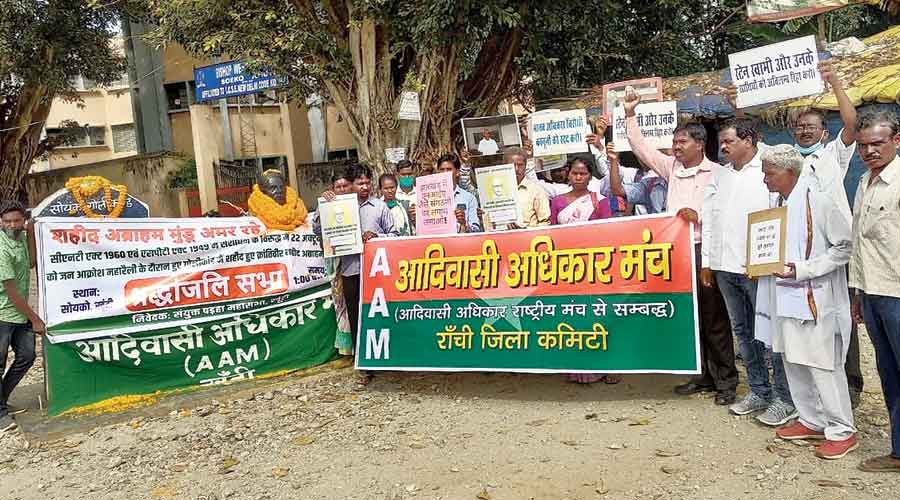 ---
---
People in Murhu block of Jharkhand's Khunti district, which witnessed the pathalgadi movement in 2017-18 during the erstwhile BJP government, have decided to start a door-to-door campaign to mobilise support for agitation and exert pressure on the central government to release octogenarian Jesuit priest and tribal rights activist Father Stan Swamy.
More than 100 members of Adivasi Adhikar Manch, a coalition of several tribal outfits, on Thursday formed a human chain at Saiko under Murhu block of Khunti to express solidarity with Fr Swamy at an event to observe the martyrdom of tribal leader Abraham Munda.
Munda was allegedly shot dead by police on October 22, 2016, while he was going to Ranchi to protest against the dilution of the Chota Nagpur Tenancy Act.
Tribal academician Karma Oraon, a member of the Manch, termed the arrest of 83-year-old Fr Swamy "unconstitutional".
"We have to mobilise a mass movement to exert pressure on the central government to release Father Stan Swamy. The ailing father's arrest is unconstitutional and immoral and shows how the government machinery is being used to silence voices raised for tribal and Dalit rights. All our members should go door-to-door to make people aware of the central government's nefarious plans and come out on streets for the release of Stan Swamy," said Oraon.
"Stan Swamy has been fighting for rights of tribals and marginalised for decades and had to face harassment from the then BJP government over the pathalgadi issue. It is our turn to stand with him at this juncture and resist the current BJP-led central government's move to suppress voices of dissent," said advocate and tribal rights defender Aloka Kujur, who joined the human chain in Khunti.
Manch members have planned to stage a demonstration along Ranchi Main Road against the arrest of Fr Swamy on Friday.
Murhu block in Khunti is over 45km from state capital Ranchi.
The Munda Adivasis of Khunti had in 2016-17 began erecting stone slabs in their villages inscribed with provisions from the Fifth Schedule of the Constitution (excerpts from the Panchayats (Extension to Scheduled Areas) Act, 1996), that grants special autonomy to tribal areas, after the then BJP government tried to amend the age-old land laws. The erection of stone slabs (pathalgadi) was an age-old tradition of tribal people to demarcate ancestral lands by commemorating the contributions of ancestors.
However, the BJP government perceived it to be "anti-development and anti-national" and deployed paramilitary troops and police forces to suppress the pathalgadi movement. As the news of the repression spread, many people posted comments on social media about the government's ruthless approach. The state government filed sedition cases against 20 activists, including Fr Swamy, on the basis of their Facebook posts which stated that it should engage in peaceful dialogue with the Adivasi people involved in the pathalgadi movement rather than repressing it.
Several Opposition leaders, including chief minister Hemant Soren, intellectuals and rights activists, have condemned the arrest of Fr Swamy.
He was arrested from his home near Ranchi on October 8 night by the National Investigation Agency in the Bhima Koregaon case, in which 16 rights activists, writers and lawyers have been charged with Maoist links. He was remanded in judicial custody by a special Mumbai court till October 23.