Call to Dalits, minorities to join protest
Representatives of Christian and rights organisations hint at urgent need for the convergence against the current 'fascist' forces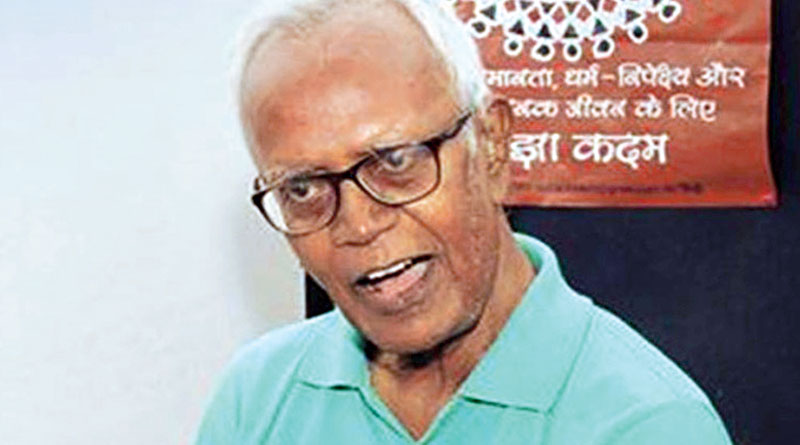 ---
---
Christian organisations and human right groups have called for Dalits, tribal and minorities to join hands with other concerned citizens and protest attempts by the central government to silence voices of dissent by misusing the anti-terror law UAPA.
During a two-hour webinar named "Stand with Stan" organised by Indian Christians for Democracy on Sunday, representatives of various Christian and rights organisations said that the arrest of 83-year-old Jesuit priest Father Stan Swamy by the National Investigation Agency along with other intellectuals and rights defenders in the Bhima Koregaon case has created an urgent need for the convergence of minorities, Dalits and tribal forces against the current "fascist" forces.
"These arrests have shown the intent of the central government and no Indian can afford to be complacent and say that I am not affected and let anything happen. We invite all to come to the streets and oppose the sinister move of the present regime. Time is ripe for Dalits, Adivasis and minorities to join together with common and concerned citizens of the country in one struggle against the fascist forces. All religion teaches us to oppose those who are spreading hate and dividing society," said Father Prakash Louis, founder of Indian Christians for Democracy. It was also decided to work with all the social, cultural, political and secular individuals and organisations in opposing the agenda of the present regime.
"In the earlier Emergency in our country, political opponents were targeted. But now intellectuals and human right activists are being targeted and laws are being misused. The 16 people arrested in the Bhima Koregaon incident have fabricated charges levelled against them. There is an urgent need to exert pressure on the government to repeal the Unlawful Activities (Prevention) Act which is being blatantly misused to harass rights activists," said author and social activist Harsh Mander.
Others who attended the webinar included Kavita Srivastava, national general secretary, People's Union for Civil Liberties, Ranjan Solomon, rights activist from Goa and member of National Confederation of Human Rights Organisation, Zoe Xavier, director of Indian Social Institute, Bangalore and Frazer Mascarenhas, former principal, St Xavier's College, Mumbai. The speakers demanded immediate and unconditional release of Fr and all the other accused in the Bhima Koregaon case.