Election fever records different temperatures
Some repose faith in inked finger despite all odds, few ask what's the use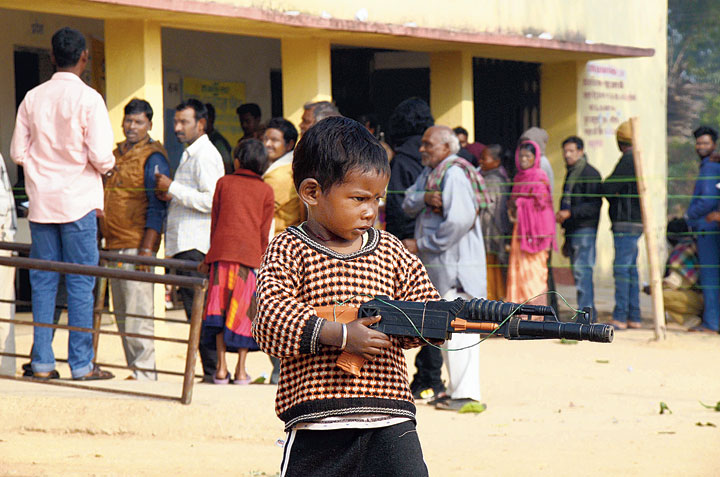 Priyanshu Munda poses with a toy gun at a polling booth at Sutiyambe village under Kanke Assembly constituency in Ranchi on Thursday.
Picture by Manob Chowdhary
---
Ranchi
|
Published 12.12.19, 06:45 PM
|
---
Three-year-old Priyanshu Munda, a farmer's son, guarded a polling booth with his toy rifle at Sutiyambe, the village of ancient Munda king Madra Munda, some 20km from the capital under Kanke Assembly seat.
Sutiyambe in Pithoria had shot to national limelight in June 2017 when farmer Baldeo Mahto jumped into a well, allegedly over loan pressure. But, on Thursday, phase III of Jharkhand polls, Sutiyambe had appeared to have shaken off its gloom, like most rural seats where voting was an enthusiastic, even a festive affair.
Anita Mahto, Baldeo's widow, told The Telegraph that she would go to vote after lunch. "My sons Sonu and Manish are not yet 18, but I will vote. I haven't lost faith in democracy though the government has neither waived off my husband's loan nor given the Rs 2 lakh compensation so far," Anita said, mixing rice with vegetables on her plate inside her mud home with an asbestos roof.
Manish, 14, and Sonu, 17, stood near their mother. "After father killed himself, we were told that the government would give us a pump to irrigate our 40 decimal plot where we grow cauliflowers and tomatoes. We're still waiting. However, in October, we got Rs 40,000 as first installment to build a house under the PM Awas Yojana," Sonu, who studies intermediate at SS Memorial College, Kanke, added. "As ma says, we haven't lost faith."
It was another story in another Munda village, Dhankachda, also in Pithoria. Some 25km from the capital at Pithoria by the picturesque Patratu valley, Dhankachda also falls under Kanke seat.
Sunder Munda, a Dhankachda resident, said he hadn't voted. "Why should we? Our polling booth is at a government school in Samudaha, 5km away, and there is neither any road nor means of transport. The worst part is that we have to bring water from Lakari river by scaling down at least 200 feet in the valley. Go down, come up with jerry cans of water. Every day. When an elected government doesn't take care of our village, why should we bother to elect someone?" he asked.
The mood was different yet again in Hatia, Khijri and Silli seats where people came out in large numbers to vote.
Md Tajuddin, aged 64 and paralysed, managed to reach Government Urdu Middle School at Mathatoli in Nayasarai under Hatia Assembly constituency. "Vote toh dena hi chahiye (Everyone should vote)," he said as people looked at him appreciatively.
Somri Devi, 72, reached her booth at another middle school at nearby Mudma, and announced confidently: "Hum barabar vote deten hai (we always vote)."
Afzaluddin, 65, also a paralytic, said he reached the Mudma booth helped by relatives because he considered "casting his vote and selecting a competent MLA as my duty."
In the adjacent Khijri seat, George Kachchap, an ex-serviceman and a paralytic from Sarjamdi village, came to his booth at Lalkhatanga Primary School on a wheelchair pushed by a neighbour. "Aj vote hai to vote dalna hi hai (if it's vote day, I must vote)," he said, in true armyman spirit.