Eco-friendly crematorium to debut in April-end
Charges to be nominal at the Bistupur facility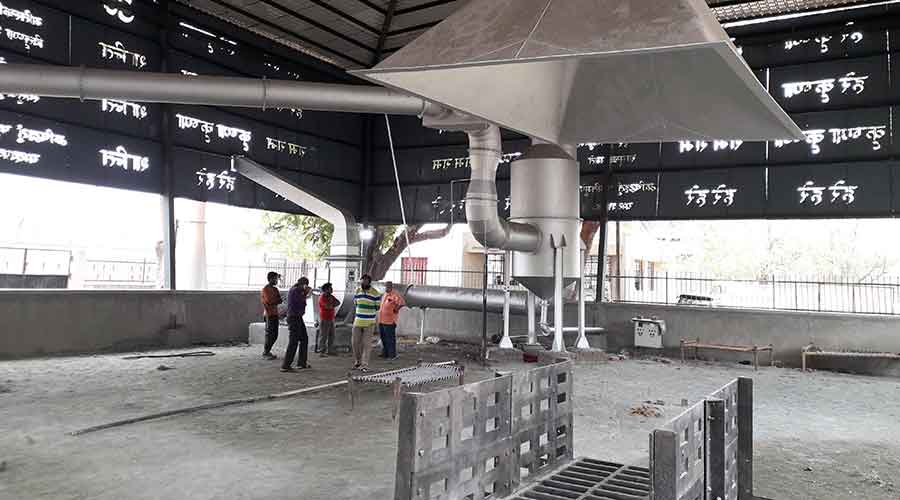 The eco-friendly unit at Pavati ghat in Jamshedpur on Monday.
The Telegraph picture
---
Jamshedpur
|
Published 12.04.21, 06:39 PM
|
---
An eco-friendly crematorium at Parvati ghat in Bistupur is set to be commissioned later this month.
The project, executed by a Calcutta-based agency, is almost ready with all necessary equipment in place.
"Only the flooring needs to be completed. Initial work related to flooring is underway. It would not take much time," said Dipendra Bhatt, general secretary of the Parvati ghat management committee.
Two furnaces are used at Parvati Ghat, located near Kharkai bridge. Apart from the furnaces, bodies are cremated by adopting traditional methods of using wooden logs on two separate platforms under a tin shed.   
On an average, 8 to 10 bodies come for cremation at the ghat.
On the functioning of the burning unit, Bhatt said logs of wood inside the burning chamber would be compressed and a blower would assist in quick burning of the pyre. The remains will pass through the channel inside the chamber and only smoke will come out of the chimney.  
"The remains will settle down after passing through the water channel. There will be no scope for particles to get released in the air. The new unit will consume less quantity of wood and take less time to fully burn the bodies," he added.
Ghat committee members and well-wishers have contributed funds for the Rs 20 lakh unit.
The cost of cremation at the eco-friendly unit has not been decided yet but the general secretary has assured it won't be high.
Plans are also afoot to add greenery to the crematorium once the new unit is functional.  For security purposes, the boundary walls will be made fully concrete with no gaping spaces.