Murmu balm for Burugulikera
Governor to victims' kin: govt stands by you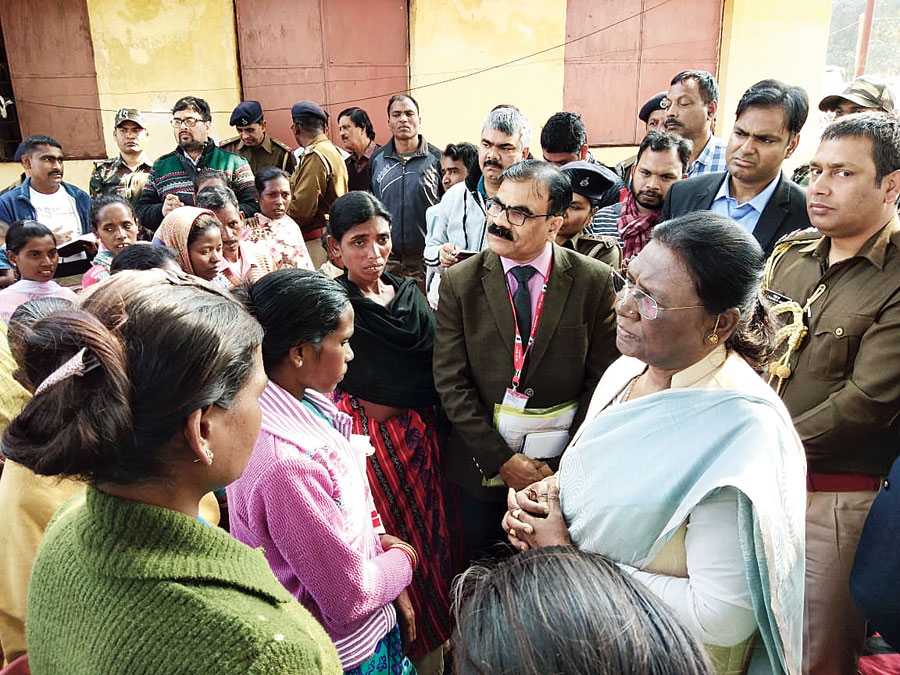 ---
---
Governor Droupadi Murmu on Tuesday visited Burugulikera, the village in West Singhbhum where seven villagers were beheaded, and set two goals for the district administration: Government schemes must reach each villager and there should be no repetition of such a massacre.
Murmu flew by helicopter to the Lodhai CRPF camp, around 10km from the village around 150km south of Jamshedpur, and travelled the rest of the distance by car.
She arrived around 11am and spent over two hours interacting in the local Ho-Mundari dialect with family members of the seven men killed, inspected a middle school and a primary school and saw the midday meals served to students.
"I have asked the administration to undertake all measures to prevent a repeat of such a massacre in any village," she said. "My only objective behind coming to the village is to assure the victims' family members that the government stands with them. The administration and police are camping in the village and should ensure that all government schemes reach each villager. Differences of religion, customs and traditions should not lead to such violent outcomes."
Police have arrested 17 persons for the massacre and two more for alleged ransacking of the properties of some of the villagers' houses on January 16 evening, which led to the gram sabha that preceded the massacre.
"The administration has formed a permanent police picket and a detailed investigation is underway to punish the guilty. All attempts will be made to instil a sense of security and an atmosphere free of fear," the governor said.
A few of the victims' widows told her that some of the villagers who had taken part in the assault were still roaming free. They were afraid, the relatives said, that after the police leave their village they would be beaten up for availing government benefits.
West Singhbhum superintendent of police Indrajeet Mahatha assured the governor that apart from the permanent police picket in the village regular patrolling was being done jointly by the cops and CRPF personnel.
Some villagers complained of lack of potable water. Deputy commissioner (DC) Arava Rajkamal said the administration had prepared a detailed project report for a water tower in the village. The DC also said goats have been provided to the victims' families for animal husbandry.
The governor suggested to the DC that a playground be built near the school and a pond dug for meeting the needs of the villagers.