Drivers protest e-rickshaw ban
Kishori Kumar, a physically challenged driver, said his life will become hell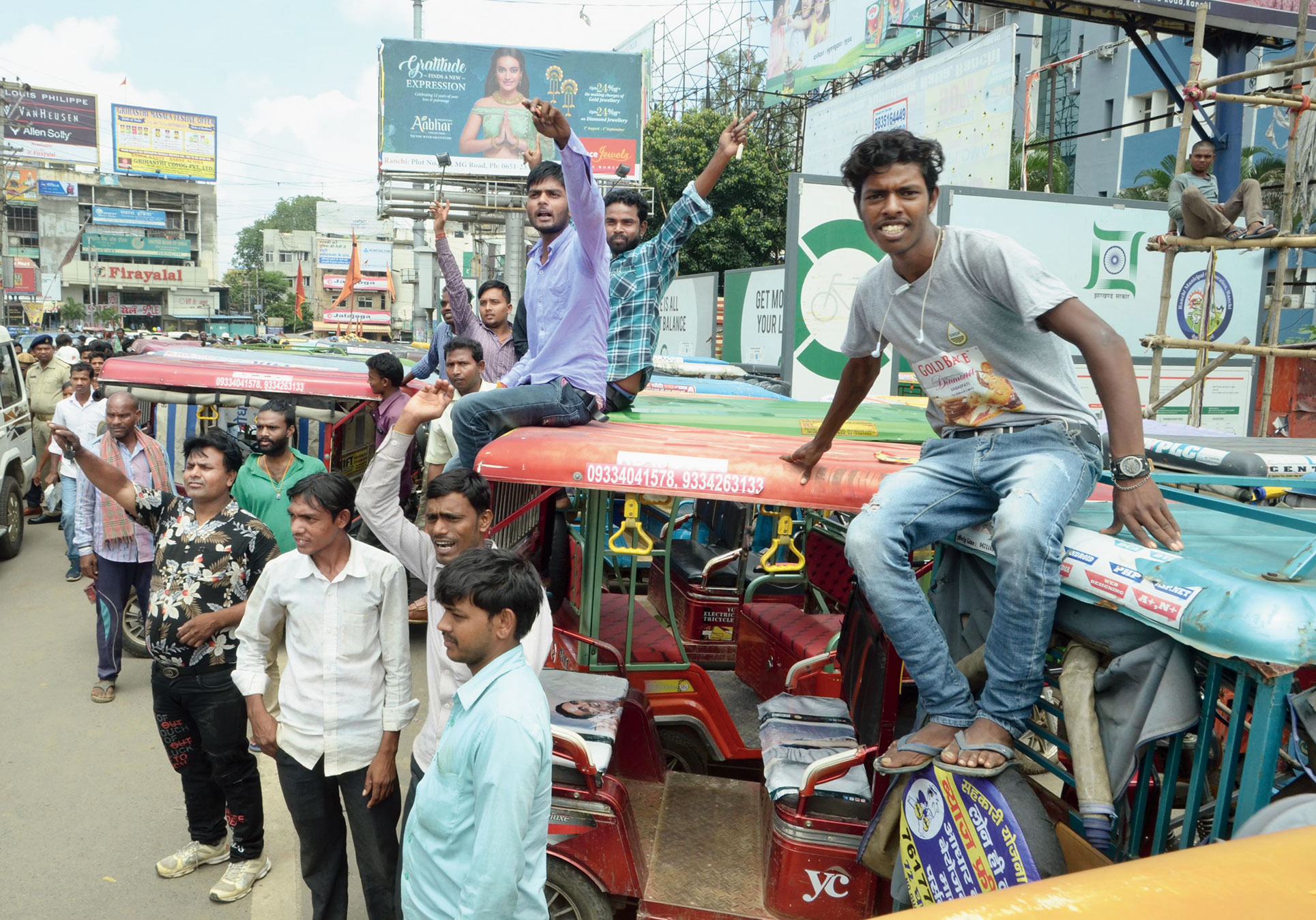 E-rickshaw drivers protest on Main Road in Ranchi on Tuesday.
Picture by Prashant Mitra
---
Ranchi
|
Published 27.08.19, 10:40 PM
|
---
More than 50 electric-rickshaw drivers staged a demonstration at the gate of the Ranchi Municipal Corporation on Tuesday to protest the civic body's decision of banning e-rickshaws on Main Road from September 1.
The agitating drivers said the decision would not only result in them losing their livelihood but also create problems for people who are getting environment-friendly conveyance.
"The RMC wants to ban movement of 400 e-rickshaws to introduce 10 city buses on the stretch between Rajendra Chowk and Albert Ekka Chowk. It is neither good for drivers nor for the passengers," said Mohamed Wasim Azam, an e-rickshaw owner.
"Drivers will lose as 20 persons will get jobs (as drivers for the buses) at the cost of 400 (e-rickshaw) drivers. Passengers will lose as they will be deprived of a convenient mode of conveyance. City buses, with 50 seats per bus, will take a longer time to pick up and drop passengers than e-rickshaws, which have only four seats and which can stop anywhere to pick up and drop passengers."
Tarez Alam, another e-rickshaw driver, expressed fear that after Main Road e-rickshaws would be banned on other city roads also and 7,000 e-rickshaw drivers would be rendered jobless.
"After introducing city bus on Main Road, the civic body will introduce city buses on other roads and finally ban movement of all e-rickshaws on city roads. It will cause financial burden on e-rickshaw drivers who have taken loans to purchase the rickshaws and are paying instalments saving from daily expenses for survival," Alam said.
Kishori Kumar, a physically challenged driver, said his life will become hell.
"I don't have one leg and thus am not in a position to do any job other than e-rickshaw driving. Once it is banned on Main Road, I will lose my source of earning and my life will become hell. Under family and bank loan burden it will become difficult for me to survive," Kumar said.
Municipal commissioner Manoj Kumar, however, insisted that the worry of e-rickshaw drivers was baseless.
"E-rickshaw has been banned only on Main Road after meeting of the traffic coordination committee on Monday presided over by additional municipal commissioner Girija Shanker Prasad. The purpose of the decision is to make Main Road — where 600 e-rickshaws are running while only 64 have been given permit — congestion-free," Manoj said when contacted.
"In place of e-rickshaws city buses will ply every five minutes. E-rickshaws can run on other routes. There will be no unemployment and neither will passengers suffer," he added.
E-rickshaws were introduced in the city in 2013 with four rickshaws on Main Road. More than 7,000 e-rickshaws now ply on the city's roads. The most popular routes include Sahajanand Chowk to Big Bazaar, Albert Ekka Chowk to Kishori Yadav Chowk, and Albert Ekka Chowk to Rajendra Chowk.