Drive against liquor, drugs
Police launch WhatsApp helplines to curb illegal sale of alcohol and narcotics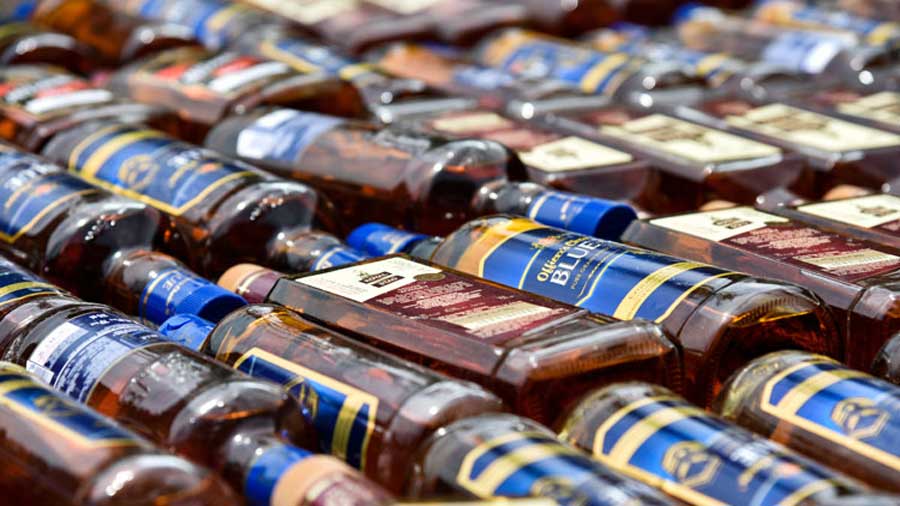 Rao had in the last week of October directed for rolling out a special drive against the sale of drugs and illegal liquor from November 1
Shutterstock
---
Jamshedpur
|
Published 04.11.20, 12:22 AM
|
---
Jharkhand police on Monday issued district-wise WhatsApp helplines as part of its drive against the sale of illicit liquor, drugs and gambling ahead of Diwali.
Director-general of police M.V. Rao said that the initiative is aimed at prompt action against illegal sale of liquor and narcotics.
"Directive has been issued to all the police heads in districts to publicise the WhatsApp helplines amongst the masses so that people can report about the sale of such illegal things in different districts. The identity of the person will be kept confidential. Dedicated personnel will be assigned to man the helplines and coordinate with the officials concerned," the DGP said.
Rao had in the last week of October directed for rolling out a special drive against the sale of drugs and illegal liquor from November 1.
"Raids and crackdowns will be conducted as per the information shared through WhatsApp. In case of any major hauls, the respective officers-in-charge of police stations will be held accountable for failing to stop such practices," said Rao.
The WhatsApp helplines have been issued for all 24 districts and two railway superintendents of police commands in Jamshedpur and Dhanbad.
"Informants can send locations along with pictures of the sale of such illegal items in the WhatsApp helplines and the designated officials concerned will inform the respective senior officials of the areas for surprise raids at the locations in the shortest possible time. The helplines will help curb sale of especially drugs in hideouts and also stop youths from resorting to gambling during Diwali, which at times leads to fights and even murders," said a senior official in the state police headquarters.
Jharkhand police had also started WhatsApp-based helplines in all 24 districts to curb crimes against women and children last month. The helplines for crimes against women have received encouraging response.
"We have mandated senior police officers, including SPs, to reach the spot and conduct preliminary investigation in case of any suspicious death of women and children to fix responsibility and prevent negligence at police station levels. Within a week of the rollout of the WhatsApp helplines for crimes against women, we had received more than 100 calls," said Rao.
The DGP appealed to the people to come forward and report all kinds of harassment for timely action.
"In many cases, people approach the police a long time after the incident, leading to delays in action. We will ensure protection to victims/complainants in sensitive cases if the need arises," said Rao.