Draupadi Murmu visits Chinnamastika temple in Ramgarh
Governor reaches venue for the 'mundan' ceremony of her grandson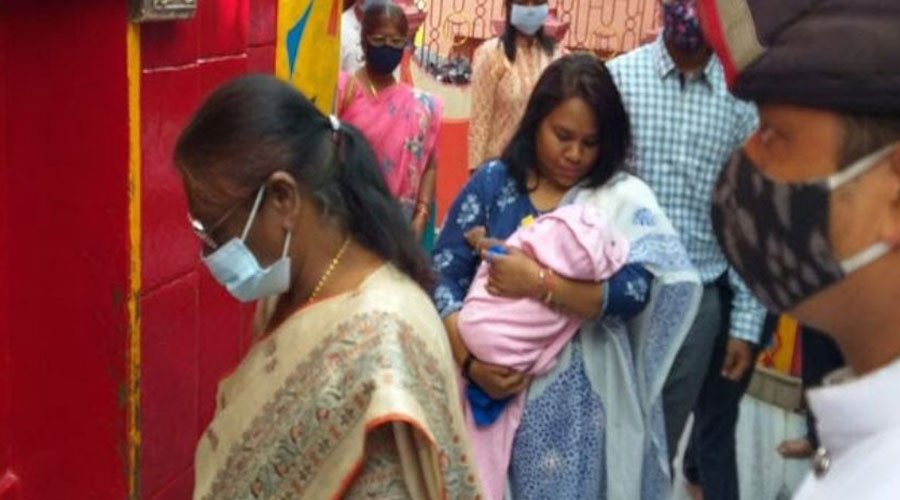 Draupadi Murmu with her family members at the Chinnamastika temple in Ramgarh on Wednesday.
Picture by Vishvendu Jaipuriar
---
Ramgarh
|
Published 24.03.21, 07:28 PM
|
---
Governor Draupadi Murmu on Wednesday visited the famous temple of Chinnamastika in Ramgarh's Rajarappa for the first time, for mundan (a religious ceremony) of her grandson.
Reaching the temple with her daughter, son-in-law and grandson, Murmu was welcomed by Ramgarh deputy commissioner Sandeep Singh, superintendent of police Prabhat Kumar, deputy development commissioner Nagendra Kumar Sinha, DSP Virendra Kumar Choudhary and other officials.
The governor, who expressed her happiness over visiting the temple, was given the Guard of Honour by the officials when she reached there.
Murmu and her family visited the sanctum in the temple and prayed there, before the ceremony was performed.
The temple premises as well as the roads leading to it witnessed a tight security in view of her visit on the day.
The main attraction of Chinnamastika temple is the headless deity of Goddess Chinnamasta, which stands on the body of Kamdev and Rati on a lotus bed. The temple is popular for its tantrik style of architectural design. Apart from the main temple, there are 10 temples of various gods and goddesses. It is situated 28kms away from Ramgarh district headquarter in Gola block on the confluence of Damodar and Bhairavi.