Double-engine roar in nervous Ichagarh
Six months after Maoists butchered five policemen with knives, people in Ichagarh are still afraid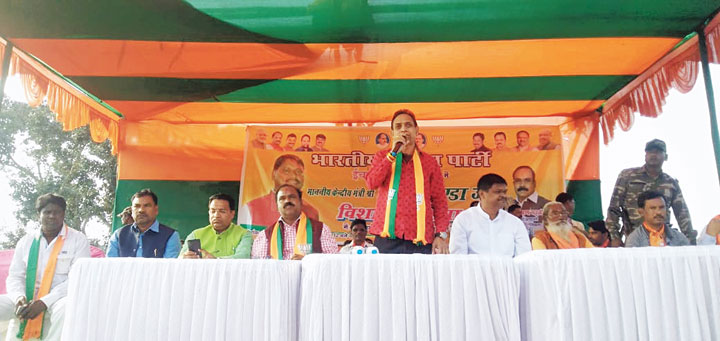 ---
---
Two-time Jamshedpur MP Bidyut Baran Mahato on Tuesday extolled the achievements of the Raghubar Das government and urged voters to re-elect sitting BJP MLA Sadhu Charan Mahato at a rally in Khukru under Ichagarh Assembly seat in Seraikela-Kharsawan, around 60km northwest of the steel city.
Six months ago, Khukru had shot into the limelight as the place where Maoists with knives had butchered five policemen at a crowded village haat on June 14.
Though arrests were speedy and Maoists have not reared their heads in this region after the June bloodbath, except for poll boycott posters here and there, some people in Ichagarh are still "panicky" said a cop.
Stringent security measures are being taken in Ichagarh, which votes in the third phase on Thursday.
On the last day of campaigning for the third phase, Bidyut Baran drew people's attention to how "the double-engine sarkar (BJP government at the Centre and state) and government under Raghubar Dasji has focused on improving the lives of farmers and rural people with schemes for water, power, streetlights and more". The government has started holding jan chaupals to take opinions of rural people into consideration while tabulating the annual budget, the MP added.
BJP nominee Sadhu Charan said that Union tribal affairs minister Arjun Munda could not turn up to campaign as he got held up in a departmental meeting in Delhi.
Ichagarh has a sizeable Kurmi (Mahato) populace — 23 per cent — that often determines the fate of candidates in Assembly polls. But, Kurmi votes are likely to split this time with three heavyweight Mahato candidates in fray — the BJP's Sadhu Charan, the JMM's Sabita Mahato (wife of deceased JMM senior leader Sudhir Mahato), and Ajsu's Hare Lal (businessman and social worker).
Aware that most Kurmis are farmers, Bidyut Baran assured them of the government plans to improve irrigation in Ichagarh. "The government plans to improve the irrigation network through sluice gates and dams and better electricity supply," he said.
Asked on their plans to execute a free and fair election on Thursday, Seraikela-Kharsawan SP Karthik S. confirmed Naxalite movement in the district, including areas under Ichagarh seat, to justify their emphasis on security. "Forces deployed on poll duty include the CRPF, CISF, Jharkhand Jaguar, Jharkhand Armed Police, Border Security Force and district police," the SP said.
Declining to spell out numbers, the SP said forces had been grouped at locations across Ichagarh seat, including Khukru block, and many where the district shares borders with Bengal.
Karthik said that the paramilitary and district police forces had been instructed to adhere to standard operating processes while giving security to polling parties and voters. He added anti-landmine vehicles would be deployed on NH-33 and other important roads under the Assembly seat.
Stone-pelting charge
Samajwadi Party candidate from Ichagarh, Banu Singh Sardar on Tuesday lodged a complaint with Chandil police against unidentified persons for pelting stones at his campaign vehicle JH-05R7101 at Ichagarh on Monday night. The candidate has called for a proper probe into the incident.
Arvind Singh promise
Independent candidate from Ichagarh, Arvind Singh on Tuesday promised voters proper civic infrastructure if he got elected. He was addressing a meeting near Chandil under the constituency on the last day of the campaigning.