Doorstep garbage collection push
Comprehensive solid waste management project involves collection of garbage and taking it to compactors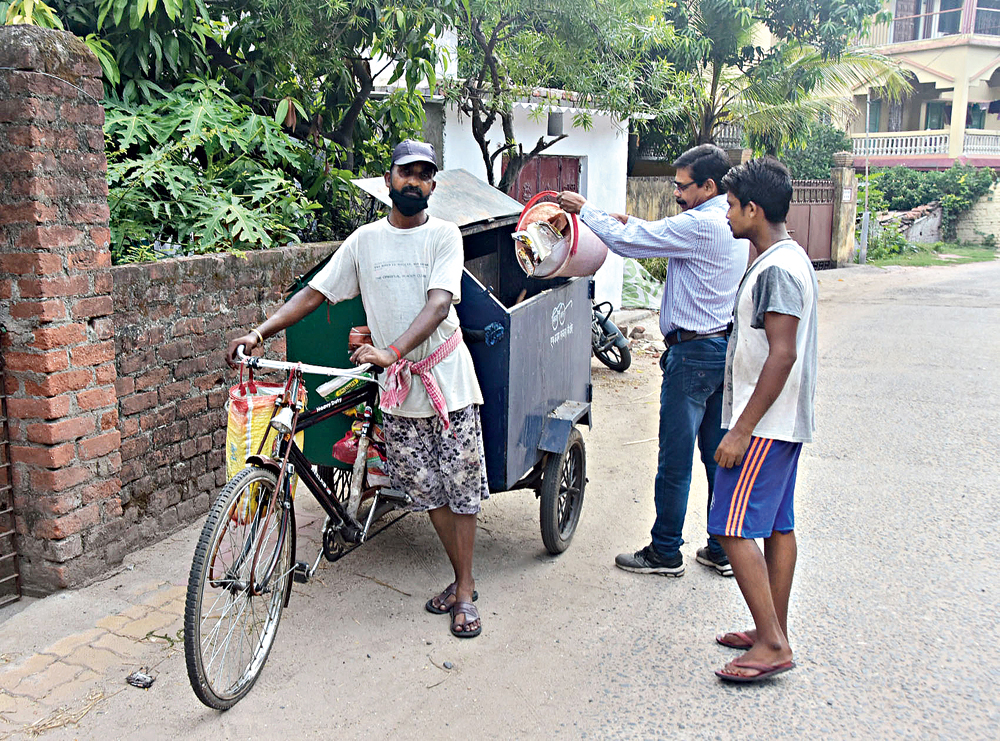 ---
|
Dhanbad
|
Published 25.06.19, 06:41 PM
---
The local corporation will launch door-to-door garbage collection facilities, in 14 of 55 wards to begin with, from Thursday and introduce a toll-free number for registering complaints.
The comprehensive solid waste management project, being rolled out in association with Hyderabad-based private agency, Ramky Enviro Engineers, involves collection of garbage and then transport them to compactors put at various points of the district.
"Collectors will be moving around 14 wards of Dhanbad from ward 22 to ward 35 along with garbage colleting tippers from 7am. A music system will announce the arrival of the vehicle so that people get to know and can hand over domestic waste to us," said Ramky Enviro Engineers Dhanbad project head Pranab Kumar Pattnaik.
He said the company would gradually extend the facility to all 55 wards of Dhanbad spread over the five circles, namely, Jharia, Dhanbad, Sindri, Katras and Chhatatand.
Dhanbad Municipal Corporation (DMC) will launch a toll-free number (1800121100220) for residents to call in case collection vehicles don't arrive on time.
"Garbage collected from each ward will be transported to static garbage compactors that have been set up across the district by DMC. From there we will transport the garbage to a landfill site coming up at Sindri," Pattanaik said, adding streets and drains would, however, continue to be cleaned DMC's staff'.
According to the terms of the solid waste management project, 25 garbage compactors are to be set up. Ten compactors have already been set up by DMC. Fifteen more compactors are to be set up by the Hyderabad firm.
"We will begin the process of setting up garbage compactors after DMC allots land," said Pattnaik, adding that a waste- to-energy plant would also be established at Sindri in the last phase of the project.
Sources said the waste-to-energy plant, to be spread over 40 acres in Sindri, is likely to produce 6 MW electricity per day. The plant will generate 1 MW of power from 100 tonne garbage. All 55 wards of Dhanbad are estimated to produce 600 tonne garbage per day.