Degree of joy at IIT(ISM) convocation
Dream impossible dreams... Ridiculous, crazy and outrageous dreams, JSW chairman Sajjan Jindal tells graduates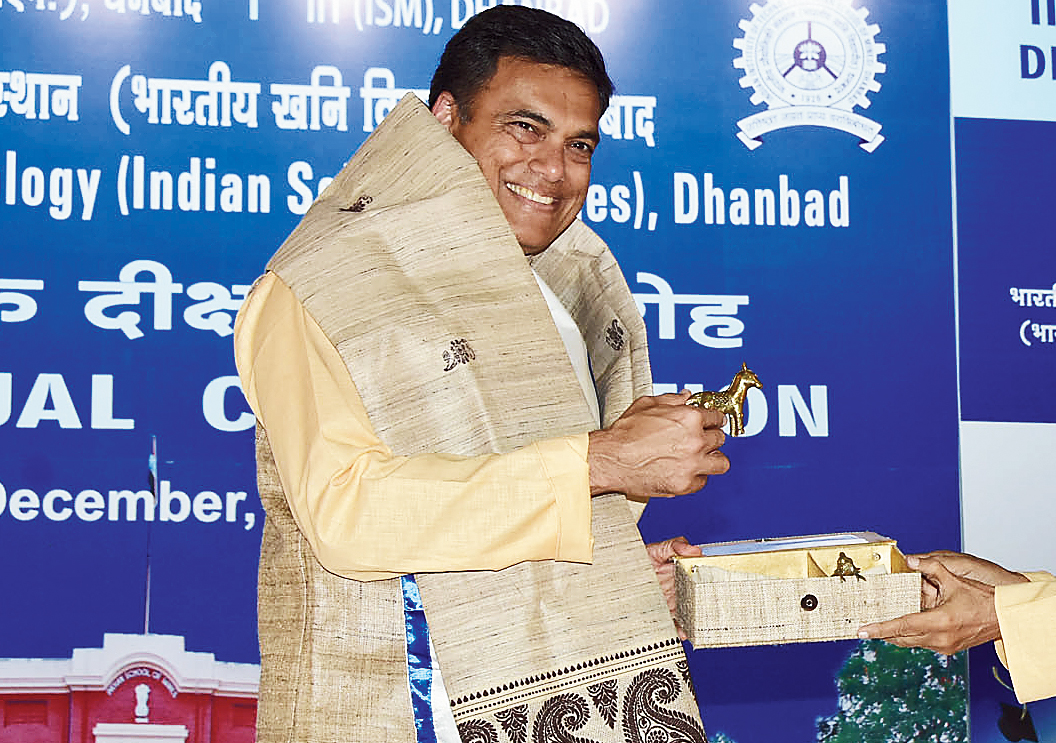 ---
Dhanbad
|
Published 11.12.18, 06:58 PM
|
---
A degree helps to a degree, but your work is what you create it to be.
This was the reigning mantra as several hundred students — clad in ivory, either kurta-pyjamas or saris or salwar-kameez — received theirs at the IIT(ISM)'s second convocation (39th for erstwhile ISM) here on Tuesday. Of the 2,082 recipients, around 1,000 were present in person.
Altogether 103 medals were also given away — 61 gold, 20 silver and the rest sponsored — while Ravi Kumar of mineral engineering received the Best Student Shield for 2018.
Chairman of JSW Group Sajjan Jindal, who was present as chief guest on the occasion, exhorted students to work instead of wish and never forget their duties towards the society.
"Never hold back your dreams. Dream impossible dreams. Ridiculous, crazy and outrageous dreams. Find a way to chase them and finally, when you succeed, always remember to give back to the society," Jindal said to thunderous applause from a 1,000-plus crowd at the cradle's Penman Auditorium on the Hirapur campus.
Director of IIT(ISM) Rajiv Shekhar read out the annual report of the institute in the presence of a host of dignitaries, including the chairman of the Board of Governors Dhanush Dhari Mishra. He announced facilities and amenities, including a new 2,000-bed hostel, a central library, a food plaza and a sports club on the campus.
"Our aim is all-round development of students for which sports and extracurricular activities will be promoted on a regular basis," Shekhar said, addressing a convocation the second time this year. He added that campus security would be beefed up and unauthorised entry of outsiders prevented.
The maiden IIT(ISM) degree day was organised on June 18, 2018, because the cradle couldn't hold the same in 2017 for logistics issue.
Jindal echoed the cradle director and stressed the need for sports and extracurricular activities. "Do what you enjoy and enjoy what you do. Be a complete human being. Indulge in sports and fitness. Remaining fit is very important for success in both profession and personal fronts," he said.
Emphasizing on the need to develop the manufacturing sector, Jindal said: "We must take advantage of latest technologies to make our manufacturing plants smarter. This will help us remain globally competitive. This will create more jobs."
Chairman of Board of Governors Mishra, on his part, shed light on the history of IIT(ISM). He said the cradle was earlier dedicated to Earth science and mineral industry, but had now successfully diversified into other branches of engineering and even made forays into management.
While the degree recipients took their oath of service either in Sanskrit or English at Penman Auditorium, fellow students watched the live telecast at the new lecture hall complex. Proud parents and family members also watched the ceremony live on screen at the Golden Jubilee Lecture Theatre.
Himanshu Mishra, a BTech civil engineering graduate currently working with L&T in Calcutta, said visiting his alma mater after a gap of six months felt nostalgic. "A lot has changed infrastructure-wise and on the academic front. I felt a surge of nostalgia meeting old friends and mentors. May IIT(ISM) grow by leaps and bounds," he summed up the collective sentiments.