Distress calls to steel city's suicide prevention centre go up
Bistupur-based Jeevan receiving 20-25 SOS signals for a week now, posters helping people reach out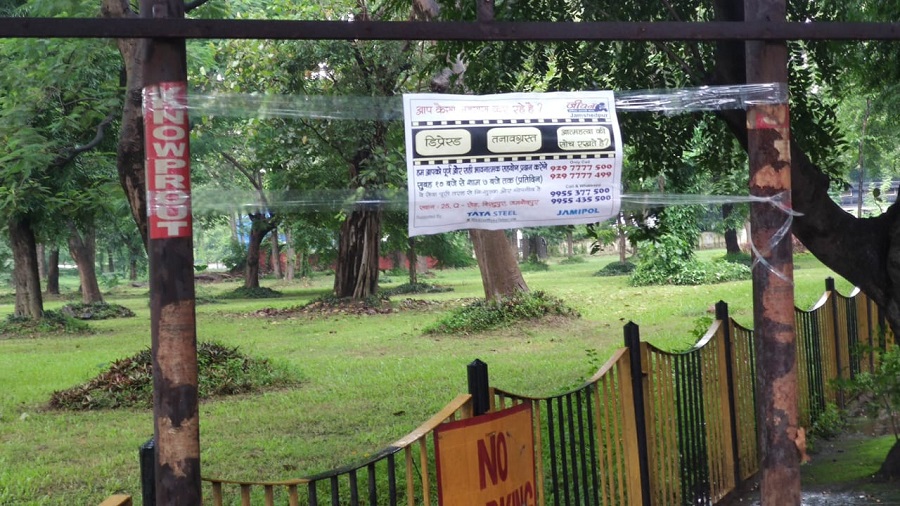 ---
---
The number of distress calls to Jeevan, a Bistupur-based suicide prevention centre, has gone up at a time when the steel city is witnessing a surge in Covid-19 cases.
Volunteers are receiving 20-25 calls daily for over a week now.
A majority of calls are related to job loss, financial problems and closure of business establishments.
Jeoraj Jain, director of Jeevan, said the distress calls have gone up as the East Singhbhum district administration has publicised the centre's helpline numbers.
"Posters of Jeevan mentioning our telephone numbers have been publicised at various places across the city. We also met the deputy commissioner last week with a request to make the nature of publicity permanent since posters get damaged after some time," he said.
He explained that the publicity of Jeevan's telephone number should sustain and it is possible only if the advertisement is made permanent.
"The posters should also come up at isolation centres," Jain said.
Posters of Jeevan have come up in Bistupur, Sakchi, Golmuri and other localities. Posters are also visible at some housing societies.
Speaking to The Telegraph Online, Jain said during the days after the coronavirus-induced nationwide lockdown in March, Jeevan was receiving around 10-12 calls daily.
However, the number of distress calls came down to 4-5 daily from mid-June onwards as people were not aware about the telephone numbers.
"People now know where to contact us, and are subsequently approaching us for much-needed help. This has been possible due to the administration, which has made our helplines public," he added.
"The present situation is no better. Some people call to tell us that they fear they have contracted the viral disease," Jain informed.
Jain has recently formed a 12-member special team comprising young volunteers.
"The team members arrange for and take grocery to old people, sometimes spending from their own pockets. They also facilitate medical assistance. The members of the special team pool in money for such kind of assistance," the Jeevan director said.
The district administration has issued passes to the volunteers for swift movement across the city.
Jeevan, which operates in collaboration with Tata Steel Foundation and district administration, has 30 volunteers, including 12 in the special team.
Volunteers try to instil positive thoughts and raise the confidence level of callers.
They also try to convince people who have suicidal tendencies, to think otherwise.
"We understand that the situation is not good but there is no need to panic and take fatal steps. Covid is not going to stay forever. It will gradually subside and the lives of people will be back on track," Jain said.
Reach Jeevan volunteers on: 9297777499, 9297777500 (only call), 9955377500, 9955435500 (call or WhatsApp).