Dirty picture before swachh test
Acute shortage of manpower and machinery has resulted in a pitiable sanitation condition in Dhanbad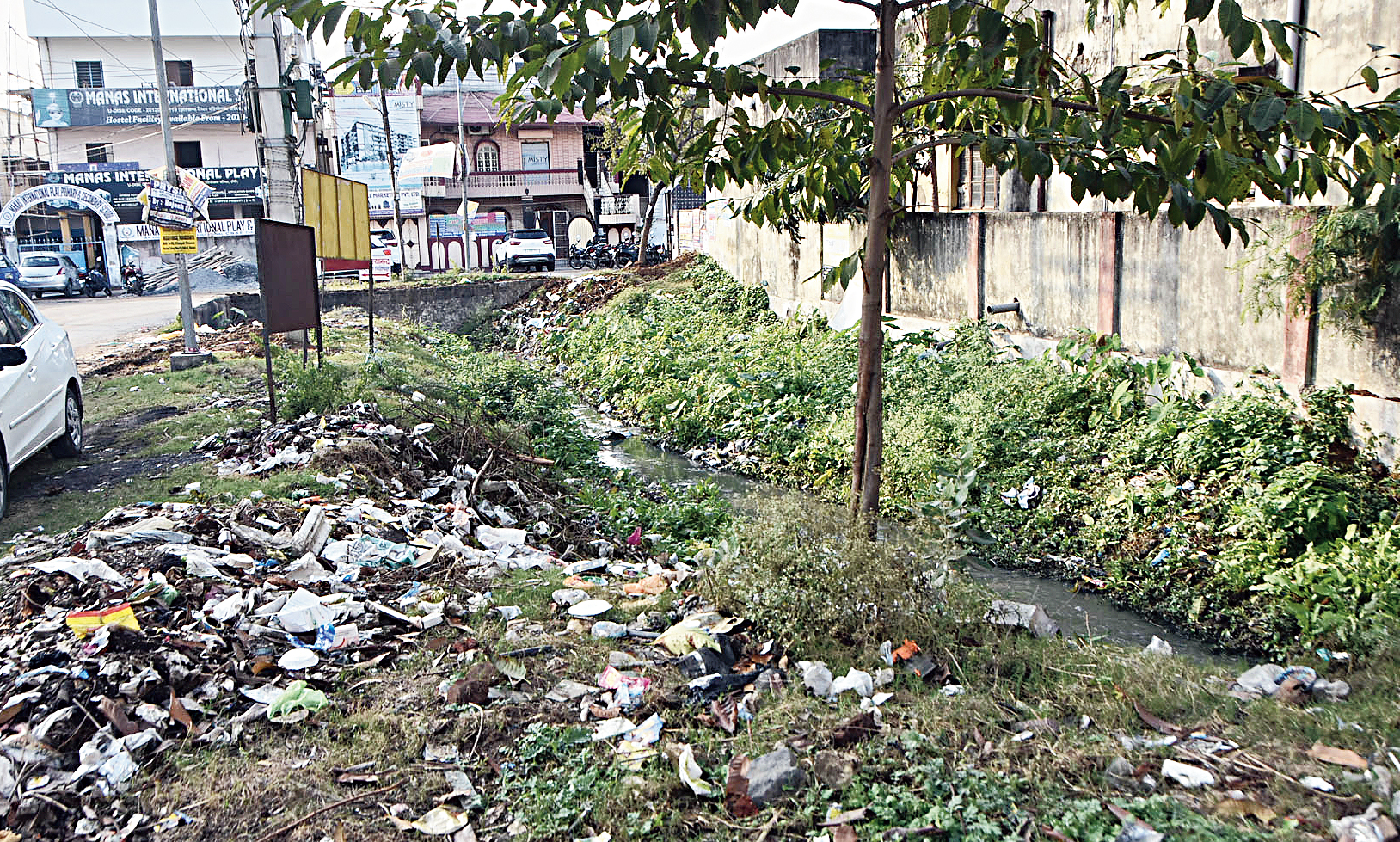 ---
|
Dhanbad
|
Published 03.01.20, 06:34 PM
---
Overflowing drains, streets littered with trash and puddles of stagnant water on roads across 26 wards of Dhanbad Municipal Corporation (DMC) are likely to have an adverse impact on the district's ranking in Swachh Survekshan 2020, the field survey for which will begin in a couple of days.
The acute shortage of manpower and machinery has resulted in a pitiable sanitation condition in the district.
DMC has withdrawn 12 out of 27 labourers from each of the 26 wards in Dhanbad and Jharia circles where Hyderabad-based Ramky Enviro Engineers has started work under the Rs 274-crore solid waste management project since June last year.
Ashok Pal, councillor of Ward 20, said: "We are facing lots of problems due to the curtailment of workforce since June last year. It is very difficult for a densely populated ward like ours to sweep roads, lift garbage and clean drains with only 12 sweepers. Moreover, out of the 12 sweepers, two each are deputed at the DMC marriage hall and railway station while one of them is deputed at the newly renovated and beautified Bekar Bandh park."
Pal said they had protested the reduction in the number of sweepers and would raise the issue once more at the upcoming board meeting of DMC on January 9.
"We are also facing a shortage of garbage tractors because the DMC has handed over all the tractors to Ramky Enviro Engineers," Pal added.
Councillor of Ward 40 in Jharia, Jay Kumar, said the shortage of manpower following the launch of solid waste management project had greatly affected cleanliness work.
"Out of an average of around 40 daily complaints about overflowing drains, non-collection of garbage and dirty roads, we are hardly being able to address 10. This is causing a lot of resentment among people," he said.
Dhanbad mayor Chandrashekhar Agarwal denied the allegations of manpower crunch.
"There is no shortage of manpower. It's a fact that we have withdrawn some safai workers from 26 wards, but the same number of workers have been engaged through Ramky Enviro Engineers, which is responsible for clearing all the dustbins and collecting garbage from each household," he said.
Agarwal said there was no need for manual sweeping of roads because the DMC had mechanised the work and deployed five dust sweeping machines — three large truck-mounted machines and two tipper-mounted ones.
"The DMC is not charging users for door-to-door garbage collection. Therefore, fund constraint is coming in the way of increasing the number of labourers," the mayor said.