Dirty ghat worry for steel city devotees
Festival organisers are hoping that things will improve before the Ramnavami processions on April 15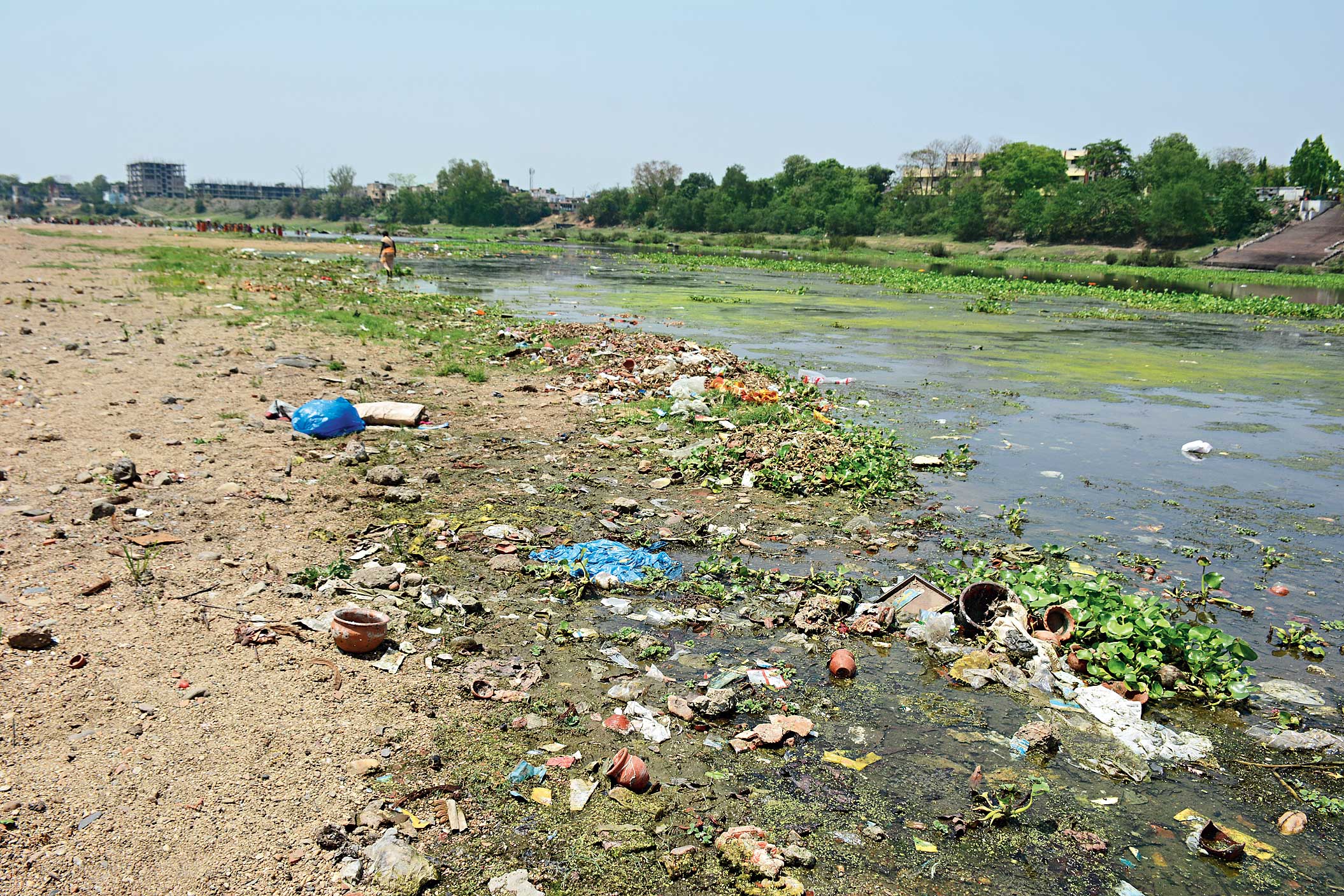 Wastes scattered on the banks of Subernarekha in Jamshedpur on Thursday.
(Bhola Prasad)
---
Jamshedpur
|
Published 11.04.19, 07:04 PM
|
---
The district administration is racing against time to remove algae and water hyacinths from some of the prominent ghats along Subernarekha ahead of the two-day Chaiti Chhath festival beginning on Thursday.
Vast growths of algae and water hyacinths could still be seen along stretches of the river near Sakchi and Bhuiyandih in addition to puja paraphernalia and tonnes of floating waste.
"Nearly 4,000 devotees would perform evening and morning arghya along all the prominent ghats on the occasion of Chaiti Chhath on Thursday evening and Friday morning. We had asked the administration to direct Jusco and other civic bodies to clean the mess. But it has not been done in the manner we had expected," said Ashutosh Kumar Singh, general secretary of Kendriya Ramnavami Akhara Samiti and Jamshedpur Kendriya Durga Puja Samiti.
"It seems unlikely the ghats will be cleaned by tomorrow evening although the administration had assured to do it by Thursday morning," he added.
Some of the prominent ghats which will see hordes of devotees include Domuhani (Sonari), Subernarekha (Sakchi), Pandey Ghat (Bhuiyandih), Dimna Lake (Mango) and Hudco (Telco).
Festival organisers are hoping that things will improve before the Ramnavami processions on April 15.
"We really hope that all the puja paraphernalia, water hyacinths and algae are removed before Ramnavami. We have also requested the administration to arrange proper lighting at the ghats and level the roads for Chaiti Chhath and Ramnavami processions," said Jamshedpur Kendriya Durga Puja Samiti senior functionary Arun Singh.
There are 210 Ramnavami akharas in the district, including 187 licensed ones, which would take part in the immersion processions on April 15 to be carried out at nearly 12 major ghats.
Dhalbhum SDO Chandan Kumar, however, said that steps were being taken to clean the ghats.
"We have asked the civic authorities to clean the ghats. We will conduct an inspection on Thursday afternoon and again before Ramnavami to ensure that all arrangements are in place. The areas will be lighted and divers will be deputed near all the major ghats," said Kumar.
Directives had also been issued to the civic bodies, especially Jusco, to trim the trees on roads through which Ramnavami processions would pass.
"There have been complaints from Ramnavami akhara committees about problems faced during immersion processions due to flags being stuck in trees along the roads. We have asked the civic bodies to trim it before April 15 so that processions could move freely. We have also asked the civic bodies to employ more cleaning personnel at the ghats. Health teams will also be deployed with first-aid and medicines in case of an emergency," the SDO said.
The district administration had fixed the timing for completion of Ramnavami processions by 10pm on April 15.
"This being election season with the model code of conduct in place, we would like the Ramnavami immersion processions to get completed before scheduled time as nomination of candidates for Jamshedpur Parliamentary constituency will commence from April 16," East Singhbhum deputy commissioner Amit Kumar said.