Direct sighted tiger a male, says PTR official after examining pugmark and scat
'Square-shaped pugmark measures 13.5 centimetres each in length'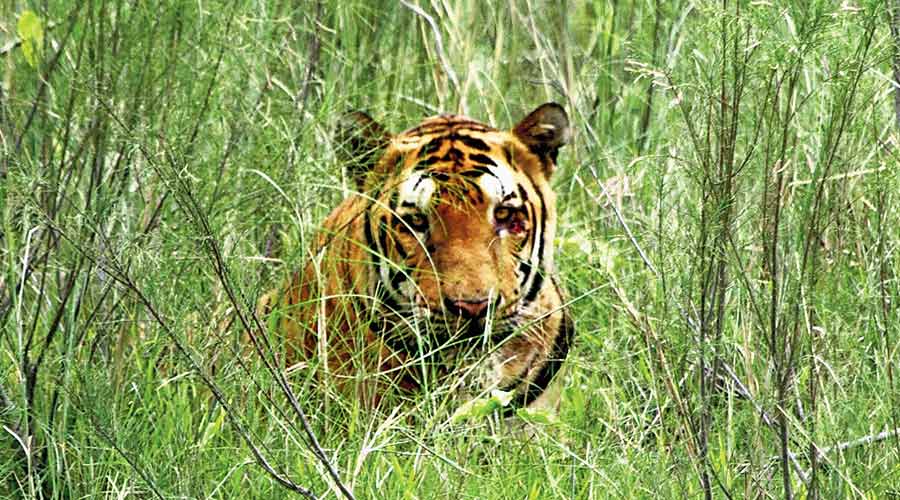 ---
Daltonganj
|
Published 11.11.21, 10:25 AM
|
---
Pugmark and scat of the tiger that was sighted in the Bareysanr range of the Palamau tiger reserve (PTR) have been collected on Wednesday, the field director and chief conservator of forest PTR Kumar Ashutosh today said. 
A tiger was directly sighted by the range officer Bareysanr Tarun Kumar Singh and his 6 trackers on Monday evening, November 8. 
The field director said it was an eye sighting barely twenty meters away from the tiger. 
Eye sighting is called direct sighting in wildlife lingo and holds immense value. 
"The pugmark collected is big and fits into a square," the field director said, adding that the big pugmark and its fitting into a square shape are the key assurances of it being a male tiger.
He said the square-shaped pugmark measures 13.5 centimetres each in length and width which further validate the tiger that was direct sighted is a male tiger. 
"The toes in the pugmark recovered is round which is another feature of being a male tiger," said Ashutosh. 
"Female pugmark fits into a rectangle shape and is less in length and width." said another PTR official Kumar Ashish deputy director North division here. 
Ashish said the toes of a female tiger are elongated.
About the scat recovered it is said 'it is days old.'
Commenting upon it, the field director said, "We know how to identify the scat and the scat that we recovered is of the male tiger.
"We are mandated to send a sample of the scat to the wildlife institute of India Dehradun for its analysis. We will be sending the report of this scat too," he said.
However, the official did not hide his displeasure about the delay in getting the report of the analysis. "The report of scat comes as late as two months or so," he said
He said they had sent samples of scat some 6 weeks ago in a different episode but are yet to get its report.
The 'kill', which was missing till last evening, was found in the Bareysanr range of the tiger reserve. 
"A kill is the preyed animal and a tiger relishes its kill for two or more days before leopards, hyenas, jackals etc come and pounce upon it," the director had said last evening, stressing that was the final piece of the jigsaw puzzle.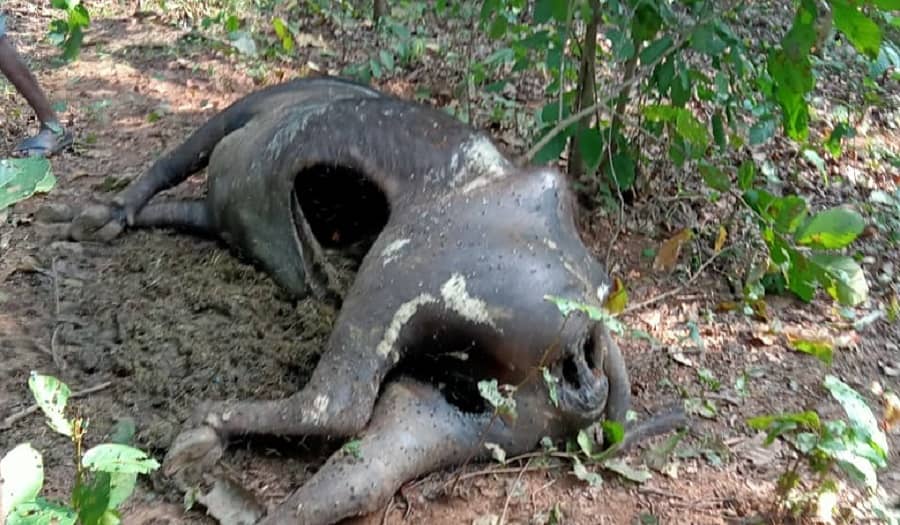 It is most opportune to mention here that about ten days ago a government doctor posted in the Kharcha primary health centre in Latehar district Dr P Kumar and his security guard had claimed to have sighted a tiger from their rooftop.
Deputy director South division PTR Mukesh Kumar said this claimed sighting of the tiger was in the non-PTR area.
It is difficult to say if the direct sighted tiger in the Bareysanr range by Tarun is the same which Dr P Kumar had claimed to have sighted at night at Kharcha in Latehar district.