Dhanbad Chandrapura Railway Line will witness trains plying at a speed of 75 km an hour from its present 50 km an hour.
The historic line of the Dhanbad Railway Division remained closed for more than 18 months due to underground fire. The line was also closed between February, 2013 and June 2017 owing to subsidence threat.
Infrastructure development work is being carried out at the Kusunda and Katras railway station. A footbridge and a parking lot are being developed at Katras, one of the most important stations of the Chandrapura line.
Talking at a news video conference, Divisional Railway Manager of Dhanbad Division of East Central Railway, Anil Kumar Mishra said, "the non operation of trains during lockdown in Coal India Chord section provided them opportunity to develop the necessary infrastructure for increasing the speed of train and work is likely to be completed within a couple of months".
A 600 meter long double lane road aimed at decongesting the main station complex of Dhanbad is being carried out. The construction began began on October 20 last year at a cost of Rs 2 crore.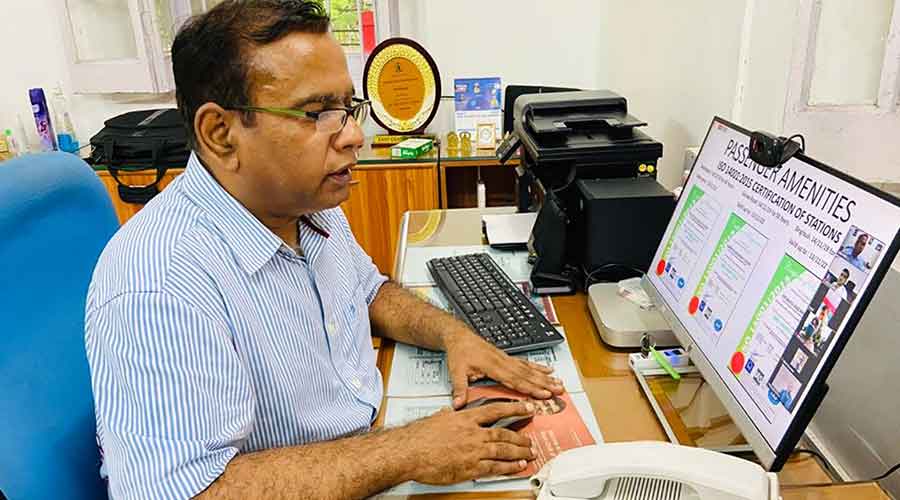 AK Mishra, DRM, Dhanbad Railway Division during the online press meet from his residence. Gautam Dey
The new approach road is likely to ease the traffic situation at Bank More area.
The south side extension complex which has a waiting hall, an enquiry counter, an unreserved ticketing counter, catering complex and a portico was inaugurated by the then General Manager of East Central Railway, Madhuresh Kumar on February 23, 2014.
The facility has remained unused till date as the existing approach road for the newly developed complex is too narrow and faces encroachment.