Dhanbad youths celebrate Id with oxygen
Members of Naujawan Committee distribute cylinders, oximeters among needy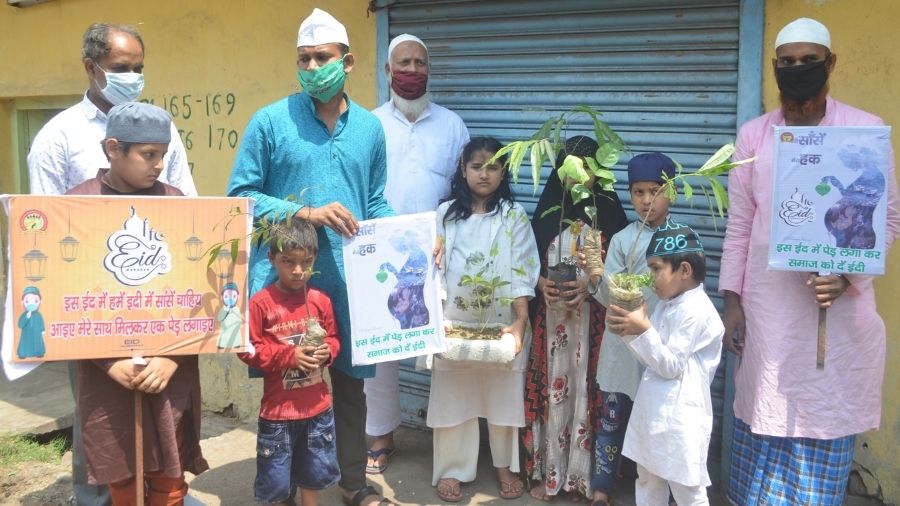 In Jharia, a group of young people planted saplings on the occasion of Id on Friday.
Picture by Shabbir Hussain
---
Dhanbad
|
Published 14.05.21, 05:02 PM
|
---
On Id, a group of Muslim youths donated six oxygen cylinders, oximeters and other gadgets Md Afzal Khan, Sadar of Anjuman Islalluh Muslim of Jama Masjid of Purana Bazar, so that they can be provided to those in need.
The youths, all part of the Naujawan Committee, donated the equipment by organising a small event on Friday morning Madarsa Islamia of Tikiya Para locality of Purana Bazar. Led by former president of Purana Bazar Chamber of Commerce, Mohammed Sohrab, the group said that the cylinders and the gadgets were procured by the 21 members on their own.
"At a time when humanity is passing through one of the most difficult phases on all fronts -- be it medical, economic, or emotional -- there was no better way to celebrate Id than serving the Covid-affected," said Sohrab.
"Though we wanted to donate the equipment to the Sadar of Jama Masjid, he trusted us to take the responsibility to distribute them among the needy. We will provide the equipment to the needy as per demand -- irrespective of caste, creed or religion," he added.
Imtiyaz Ali, another member, said that the group has been serving the society for a decade, be it taking out Id processions or helping out Covid patients during the first wave.
"This year, we have celebrated Ramadan and Id with simplicity and by extending help to the poor. We have also helped those who could not buy Id-related essentials on their own due to pandemic and lockdown generated financial constraints," Imran Ali, a member of the committee, said.
Md Afzal, Sadar of Anjuman Islamia Muslmin, while lauding the efforts of members of the committee, said, "No celebration can be better than helping humanity and the youth committee members had rightly espoused the essence of Id celebration by arranging oxygen cylinders, which essential at the present time."
In a similar gesture, Muslim youths of Jharia led by Akhlaque Ahmad, founder of social organisation Youth Concept, celebrated Id by planting more than a dozen saplings at Katras More area, one of the most polluted localities of the district.