Dhanbad water supply scheme as revenue source
Mineral area authority keen on taking over Damodar project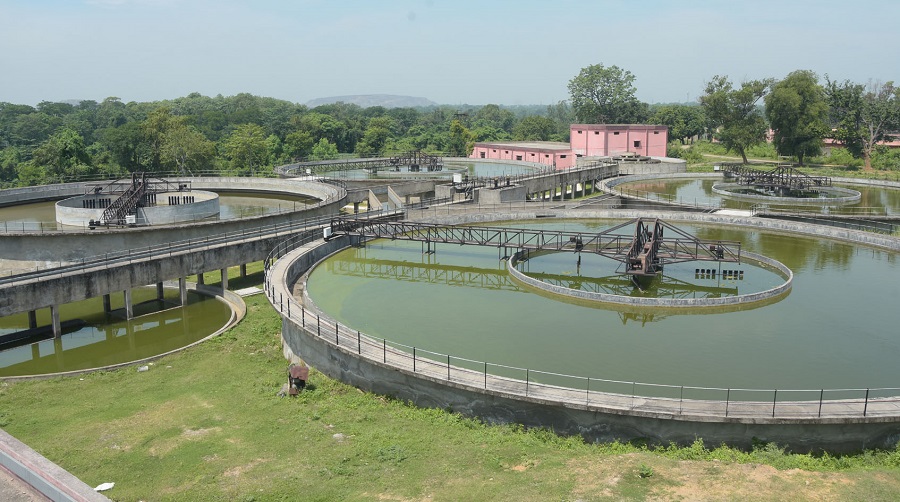 The L&T Water Treatment Plant at Jamadoba in Dhanbad.
Telegraph picture
---
Dhanbad
|
Published 28.08.20, 05:34 PM
|
---
Cash-strapped Jharkhand Mineral Area Development Authority (JMADA), the oldest civic body of the district, is preparing a proposal to take over a Rs 365-crore scheme to distribute Damodar river water to suburban areas of the coal capital.
The proposal, which caters to supplying water to areas not covered either by JMADA's existing arrangement or by the Maithon water supply scheme of Dhanbad Municipal Corporation, is likely to be submitted to the state urban development department next week.
Secretary cum technical member of JMADA Indresh Shukla, said, "As the water supply project executed for Dhanbad Municipal Corporation by the drinking water and sanitation department through L&T Infrastructure Engineering is almost complete, we can take over the project."
Shukla reasoned that although the project used Jawaharlal Nehru Urban Renewal Mission funds, routed through DMC, two agencies like JMADA and DMC operating two water supply schemes would lead to operational problems, particularly in Katras, Moonidih and Putki.
"Hence, we will try to take over the Rs 365-crore project. Besides ensuring operational convenience, it will also ensure better financial health for us," Shukla said, adding that JMADA's income was solely dependent on revenue from water supply.
He said the state Assembly had also passed a resolution in 2015 to hand over water supply of the entire district to JMADA which has over 50 years of expertise in the matter.
Notably, the ambitious water supply project of 2011, conceptualised under JNNURM millennium city project, was scheduled to be completed in 2014. However, it was delayed by more than six years due to several procedural issues including the lack of NoCs from Bharat Coking Coal (BCCL) and railways for establishing overhand tanks in underground fire affected areas and for laying pipes near railway tracks.
JMADA was established in 1984 as per an act of the then Bihar government following the merger of the water board and the mines board to manage sanitation, health and water supply in suburban areas of Dhanbad.
Tonnnage cess, royalty cess, stamp duty, water supply tax and sanitation tax were the main sources for its fund during its early days. But most of these taxes were withdrawn one of the one by the government. Now, water tax is the only source of revenue for JMADA which has an employee strength of about 800.
JMADA suffered its biggest blow in 2004 when the state government withdrew the stamp duty collected by it on account of registry of land. This led to a loss in revenue to the tune of Rs 16 crore per annum.