Dhanbad traders welcome state's decision to impose lockdown
Some businessmen to close shops from Tuesday to stem Covid tide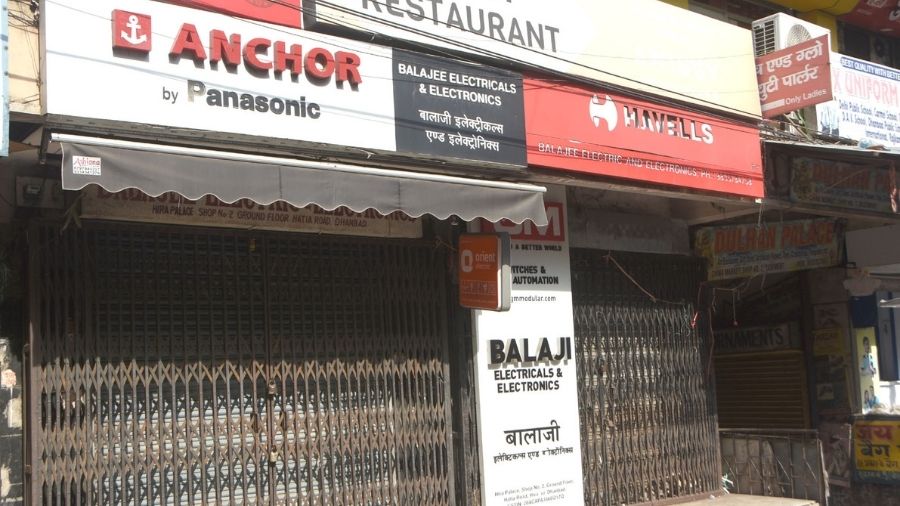 A closed electronics shop at Park Market in Hirapur, Dhanbad, on Tuesday.
Picture by Gautam Dey
---
Dhanbad
|
Published 20.04.21, 08:12 PM
|
---
Members of several Dhanbad trade associationFederation of Dhanbad ZiIla Chamber of Commerce and Industry (FDZCCI) and Jharkhand Industries and Trade Association (JITA) on Tuesday welcomed the state's decision to impose a week-long lockdown from April 22.
A section of businessmen dealing in electronics also imposed a self-lockdown of three days beginning Tuesday following a meeting of the Dhanbad Electric Traders Association.
Talking to The Telegraph Online, Rajiv Sharma, the president of Dhanbad Electric Traders' Association, said, "Though we are bound to follow the government decision, we also advocated that a self-lockdown by traders would have been a better option."
"Around 90 wholesalers and retailers of electrical products who convened an online meeting yesterday (Monday) decided to shut down their outlets for three days from April 20 to 22," he added.
Sharma noted that the traders wanted a similar self -lockdown initiative for other shops so that daily wage earners may be shielded against the impact of government initiated lockdown.
"We welcome the government's decision  as it has given a day's time to make preparations. However, we wanted the government to make some provisions for the daily wage earners for the period," said Sharma.
"Instead of imposing lockdown on it's own, government should have encouraged the traders to go for self-lockdown as it would have led to more than 55-60 per cent shop closure, which would have been enough to break the chain of infection and simultaneously would have allowed the daily wage earners and traders to continue with their occupation," he added.
Rajesh Kumar Gupta, a patron of the Federation of Dhanbad Zila chamber of Commerce and Industry said, "We were advocating for self-lockdown since more than a fortnight as many of traders have tested Covid positive"
Prabhat Surolia, President of Bank More Chamber of Commerce and Industry, did not agree fully with the others. He said, "Though we wanted the restrictions on the shop opening on our own, we waited for the government's decision to impose the lockdown due to practical difficulties."
Citing an example of problems in implementing self-lockdown, Surolia said ,"Though the traders the last year took an initiative to close the shops by 6 pm instead of the government allotted time for closure of 8 pm, within a fortnight some started saying that there is no advantage of closing shops earlier as it leads to rush."