Dhanbad plans rehab programme for kin of deceased Covid patients
Sathi Sambal scheme will provide rations, livelihood options, skill training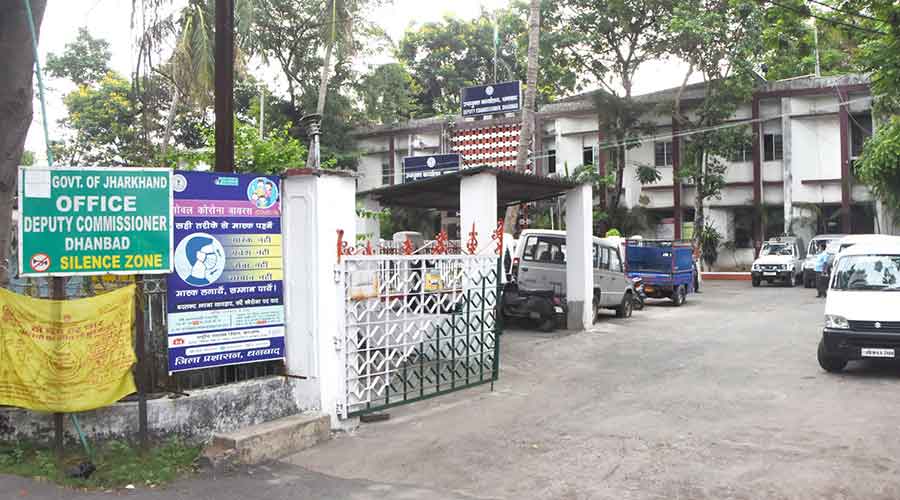 The district collectorate in Dhanbad on Wednesday.
Gautam Dey
---
Dhanbad
|
Published 12.05.21, 05:47 PM
|
---
The Dhanbad district administration has decided to extend a helping hand to the family members of deceased Covid patients, belonging to the economically weaker section by providing foodgrains and other essential items besides providing various social welfare schemes.
Both short term and long term measures have been planned under the Sathi Sambal scheme, conceptualised by Dhanbad Deputy Commissioner Uma Shankar Singh, to be integrated through various measures like making provisions for employment in private outsourcing companies and providing them skill development training.
The measures will be rolled out from Thursday with the distribution of Sathi Sambal kits containing 10 kg of rice and wheat each; two kg each of pulses and chura (rice flakes); two kg each of sattu (parched gram powder), salt, chickpea, gram, washing powder; five kg each of potato, onion, sugar; two litres mustard oil; one kg each of spices and soyabean; five packets of biscuits; 10 pieces of bathing soap as well as detergent cakes; 200 grams of toothpaste; three toothbrush; two fruit juice packets, two bottles of sanitizers and 10 pieces of masks.
Singh, while elaborating about the provisions of Sathi Sambal scheme said that besides providing kits, all such families will be provided with food grains and ration cards; widow pension; old age pension, disability pension, other social security, village development schemes, education,  social welfare and welfare department schemes.
The deputy commissioner said children who have been orphaned and have no guardians to look after in the family will be looked after by different social and nongovernmental organisations. The CSR funds of different corporate organisations in Dhanbad will be utilised for this purpose.
"For such families which have lost the lone earner, the educated boys and girls will be integrated with self employment and skill development schemes after carrying out the physical verification of family conditions," Singh said.
District Disaster Management officer of Dhanbad, Sanjay Kumar Jha, said, "Though the loss suffered by the families can't be compensated by anyone but our effort is to provide some solace to bereaved families and we will be holding an online meeting with all the incident commanders and concerned officers in this regard today."
So far, around 333 out of a total of 13,552 Covid patients have lost their lives in Dhanbad while 11,538 have recovered.