Dhanbad Municipal Corporation and agency tussle over waste disposal
Hyderabad-based agency accused of mixing ash with garbage to increase weight, stopped at compactor station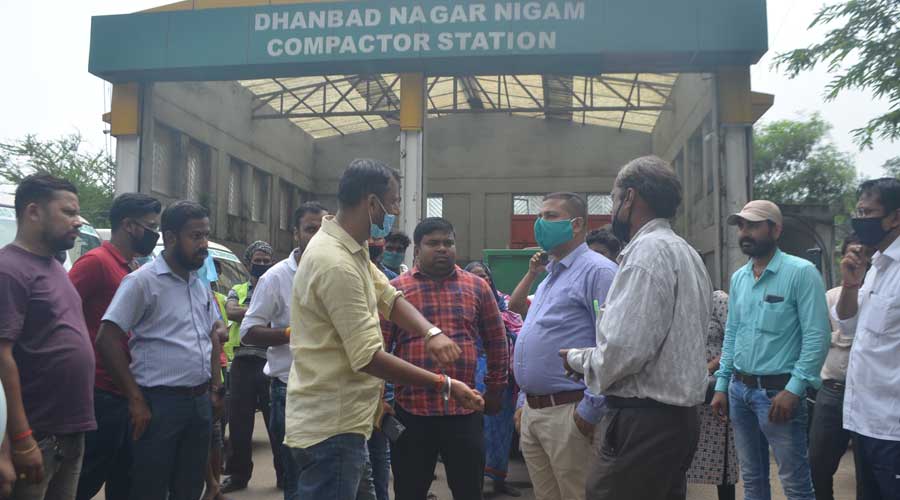 Dhanbad Municipal Corporation and Ramky Enviro Engineers Ltd officials at the Hirapur compactor station on Tuesday.
Shabbir Hussain
---
Jamshedpur
|
Published 30.06.20, 07:24 PM
|
---
The Dhanbad Municipal Corporation and Hyderabad-based agency, Ramky Enviro Engineers, were at loggerheads again on Tuesday when the agency's trucks were not allowed to dump garbage at the Hirapur-based compactor station.
The  corporation officials alleged that the vehicles were carrying ash along with the garbage, which is not allowed, as it added to the weight.
The issue was settled after the executive officer of the DMC, Md Anis, and the deputy manager (operations) of Ramky Enviro Engineers, Vikrant Sharma, arrived at the compactor station  for talks and decided to exclude the ash content from garbage before dumping.
The DMC had hired the Hyderabad-based agency to execute the Rs 274-crore solid waste management project, which was launched in July last year.
The firm is paid according to the weight of garbage cleared and transported.
This is the second such dispute between DMC and Ramky Enviro Engineers within a week.
On June 24, the garbage-carrying tippers of Ramky Enviro Engineers were stopped at the compactor station at Jamadoba.
They were not allowed to dump garbage from Chhatatand circle in Jharia for carrying ash along with the garbage.
The dispute was settled after the executive officer of the circle, Ritesh Kumar Singh, arrived at the site.
Md Anis said, "The garbage-carrying tipper of Ramky was stopped as our supervisors found some ash mixed with the garbage. The ash and earthen materials are heavy and add to the weight of garbage." 
Anis said, "Our own garbage-carrying vehicles, including tractors, visit different localities and they can carry heavy materials like ash for disposal."
Two months ago, Dhanbad municipal commissioner Chandramohan Kashyap had instructed officials to carry out strict monitoring of dumping at compactor stations to prevent mixing of ash in the garbage.
The supervisors of different circles of DMC were deputed to monitor the garbage dumping at the stations.