Dhanbad locality residents protest Covid burial
Water seepage from ground affecting more than 200 houses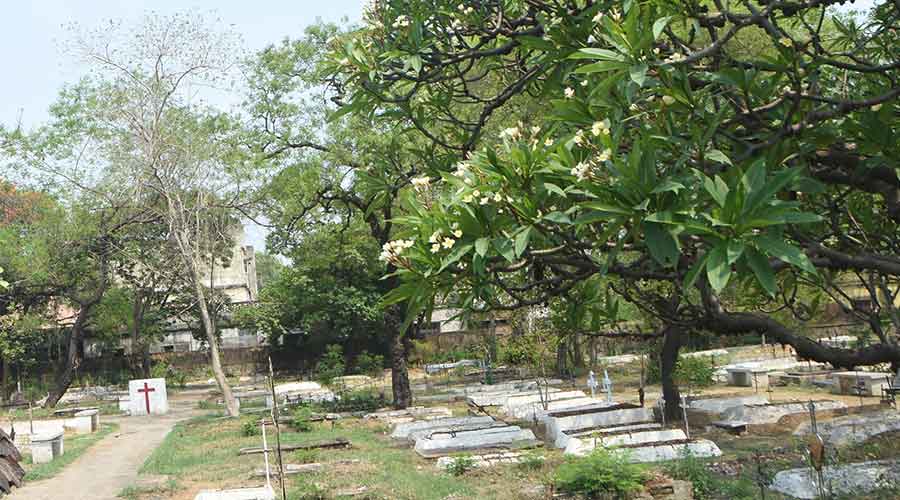 The Coalfield Christian Cemetery in Joraphatak in Dhanbad on Monday.
Gautam Dey
---
Dhanbad
|
Published 10.05.21, 06:46 PM
|
---
More than hundred residents of Joraphatak locality on Monday protested the alleged illegal burial of Covid victims at the burial ground of Joraphatak, fearing the water seepage from the ground will cause detrimental health problems.
The protesters submitted a memorandum to Surendra Kumar, sub divisional officer of Dhanbad, demanding immediate action against the practice that will affect over 200 houses around the burial ground.
Lakhi Sharma, a resident of the locality who led the delegation residents which submitted the memorandum claimed, "Over 20-25 dead bodies of Covid affected persons have been buried in the last 10 days and three dead bodies have been buried last night itself."
"The health department members come in the dead of night wearing PPE kits in ambulances and carry out burial of the bodies in a clandestine manner," said Sharma and added when they raised the issue with local officials they claimed that the virus does not survive in dead bodies.
"We want to put a blunt question before the administration that if the virus  does not survive in the dead bodies then what is the logic of constructing a special burial ground in the remote Aamjhar locality of Baliapur far from the human habitation," said Sharma.
Parmatma Yadav, another resident of locality who also participated in the protest said, "We are so scared due to the siren of the ambulance coming in our locality that we can't have proper sleep since the last ten days and want a proper enquiry into the issue."
The Dhanbad district administration during July last year constructed a funeral site for dead bodies of Covid deceased on 3.5 acres of land in Aamjhar Panchayat of Baliapur block. The local villagers of Aamjhar initially also protested against the construction of a funeral site in their area apprehending the spread of Covid infection in their locality but was later persuaded by district administration officials.
Repeated efforts to contact the sub divisional officer of Dhanbad, Surendra Prasad and Dhanbad Circle Officer, Prashant Kumar Layak failed.