Dhanbad deprived of power supply for three hours
Ongoing dispute between DVC and Jharkhand Bijli Vitran Nigam results in blackouts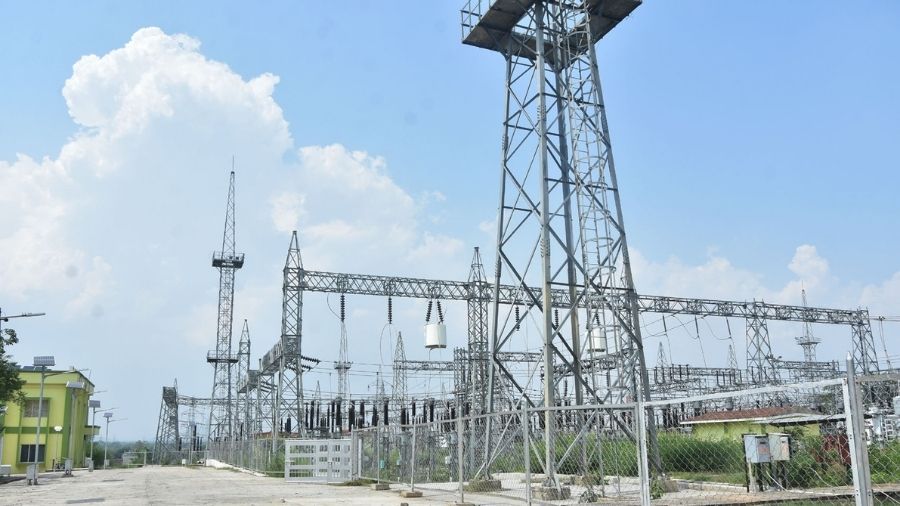 The Jharkhand Urja Sancharan Nigan Limited's 220/132/33KV Grid Substation at Kandra in Govindpur, Dhanbad, on Tuesday.
Picture by Gautam Dey
---
Dhanbad
|
Published 22.12.20, 09:05 PM
|
---
The Damodar Valley Corporation from Monday began carrying out power cuts in its command areas including Dhanbad, affecting the electricity supply in the suburban areas of the district. The three-hour power outage began on Monday night and was carried out in two batches of one and a half hours each.
However, the Dhanbad town, which falls under the jurisdiction of Jharkhand Bijli Vitran Nigam Limited, remained unaffected by the incident. The organisation draws extra power from the newly established 250-megawatt capacity Kandra-based power grid substation.
The DVC carried out the outage in order to clear its pending duesRs 4141.02 crores from Jharkhand Bijli Vitran Nigam Limited.
It had recently charged the organisation for not paying Rs 150 crore dues as per an agreement made in September, saying that it had received only 25 crores.
Expressing anger at the issue of power cuts, Surendra Arora, a gift shop owner at the Bank More area said, "Power cuts by the DVC has become a regular regular phenomenon and common people here are frustrated over the problem."
Arora, who is former president of Bank More chamber of Commerce and Industry, added, "DVC is using the coal and manpower of Jharkhand but leaves no opportunity to deprive the people here of the power, which is the most essential service nowadays and such an attitude is totally anti-people."
"We pay the bills regularly, then why should we be deprived of power due to a dispute between JBVNL and DVC which has been going on since long," Dilip Singh, a resident of Hirapur said.
General Manager of Dhanbad Electric Supply Area, Ajeet Kumar, said, "Since the commissioning of Electric Grid Substation of our own during the last year, our dependence on Damodar Valley Corporation for power drawal has greatly reduced. So power supply has largely remained unaffected in the Dhanbad town area although we faced difficulty in adjoining localities including Nirsa, Jharia, Tundi and Bokaro."
"We are also in the process of integrating the Jharia, Nirsa and Tundi circuits with the Kandra grid, which will also reduce the dependence of these areas for power supply from DVC," further said Kumar.
"If the power crisis continues in future and outages are further increased then we may face problems. However, efforts are on at the state government level to sort out the issue," he added.
The DVC has threatened to increase the power cuts every week if the Jharkhand Bijli Vitran Nigam Limited does not clear its dues.
The DVC provides 600 megawatt of power supply in seven districts of Jharkhand including Dhanbad, Bokaro,Giridih, Chatra, Hazaribagh, Koderma and Ranchi.
"The power outage is being carried out due to non-payment of dues by JBVNL," Chief Engineer (Commercial) of DVC, Manik Chandra Rakshit said, refusing to elaborate.