Dhanbad Congress, BJP leaders spar over upcoming water scheme
Opposition leader accuses state government of delaying Jharia project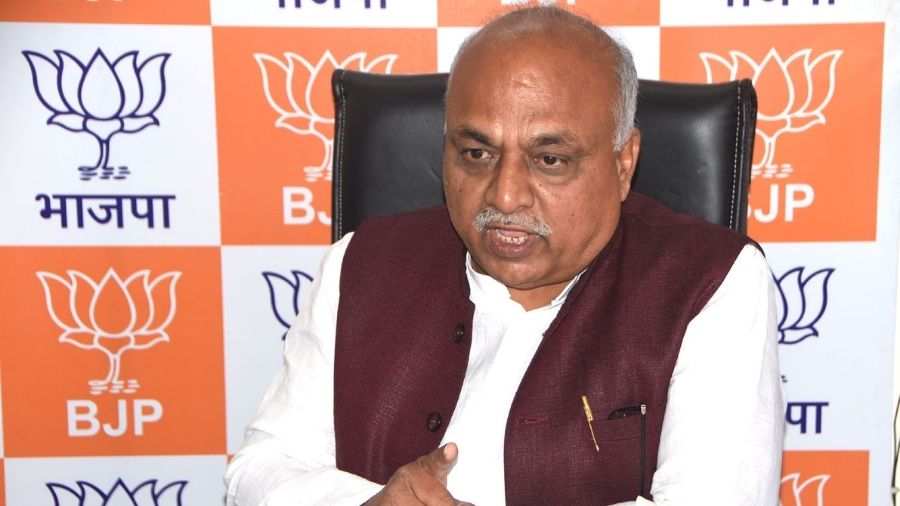 BJP leader Chandrashekhar Agarwal during a press meet at his residential office in Dhanbad on Thursday.
Picture by Gautam Dey
---
Dhanbad
|
Published 11.03.21, 08:20 PM
|
---
Former Dhanbad mayor and BJP state executive committee member, Chandrashekhar Agarwal on Thursday hit out at Congress leader Purnima Singh for performing Bhoomi Pujan of a water supply scheme last Sunday.
Agarwal said that the laying of the foundation stone for the water supply scheme worth Rs 311 crore, meant for ensuring river Damodar water supply to more than 1 lakh households of Jharia, was already done by former chief minister Raghubar Das in 2019, when the BJP was in power in Jharkhand.
The spar between the Congress and the BJP continues at a time when the scheme itself is yet to be initiated.
Agarwal accused the JMM-Congress coalition government of causing unnecessary delay in implementation of the scheme, which is supposed to be completed in October this year. He said only one per cent of work has been done so far.
Addressing a press conference, Agarwal said that the entire roadmap of the project was introduced by the erstwhile BJP government, but the new government derailed it first and now was taking credit for it.
"The present government, soon after coming to power, tried to change the agency for  implementing the scheme from JMADA to Jharkhand Urban Infrastructure Development Company (JUIDCO) thereby causing the delay of more than an year," he said.
District Congress president  Brajendra Prasad Singh on wednesday had accused the BJP government of preparing the scheme in undue haste and laying the foundation stone in a hurry.
Reacting to this, Agarwal said, "With due respect to Brajendra Prasad Singh, I would like to inform him that he has been provided wrong information about the scheme. It has been prepared after three rigorous surveys and studies."