Four labourers were buried alive on Tuesday night while building an underpass connecting Bengal and Jharkhand on the Howrah-Delhi railway line in Dhanbad, triggering a protest on the tracks that led to the cancellation of four trains and diversion of over a dozen.
Trains services were restored around 5.30am on Wednesday when villagers who had laid sandbags on the tracks lifted their agitation following an assurance of adequate compensation and jobs to the dependents of those killed in the mishap.
According to sources in the Dhanbad railway division, which falls under the East Central Railway zone, the incident occurred late on Tuesday night near Chhatakuli village under the Baliapur police station, around 13.4km from Dhanbad district headquarters.
Six workers engaged by a private contractor were working at the under-construction underpass between the Pradhankanta railway station and Sindri rail section.
The portion caved in after a goods train crossed from a nearby track and the soil fell on the working labourers who were working under 10 feet during the construction of the underpass, leading to their death.
Nearby villagers rushed to the spot and tried to rescue them, but failed, according to officials.
All the labourers were residents of Kulhi village under Baliapur police station area, Sindri sub-divisional police officer (SDPO) Abhishek Kumar said.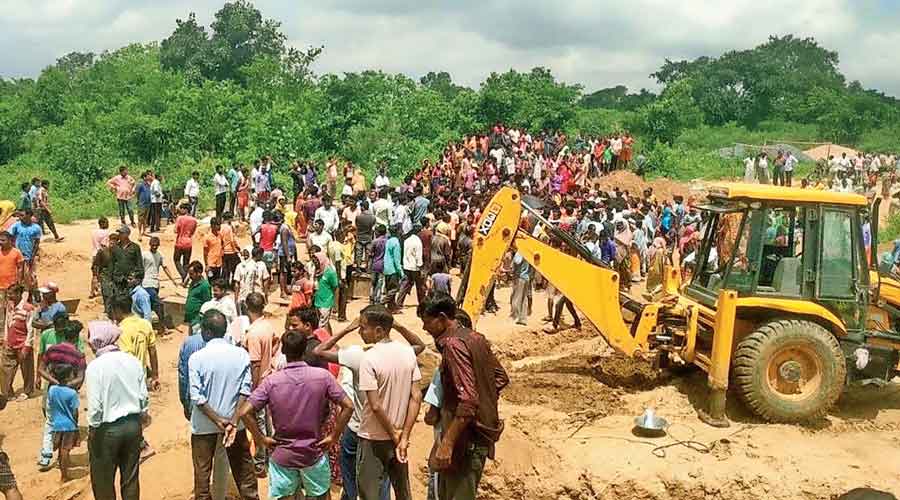 Irate villagers take a look at the rescue operation at the mishap site. Telegraph photo
"Out of the six workers, the villagers managed to rescue two while four labourers had died on the spot. Those who had died in the mishap include Niranjan Mahato, 45, Pappu Kumar Mahato, 40, Vikram Kumar Mahato, 30, and Saurabh Kumar Dhibar, 25," said Abhishek Kumar.
Condemning the incident, central secretary of CPI-ML , Bablu Mahto held the railway and private contractor entrusted with the construction work responsible.
"It is sheer negligence on the part of the railway and the contractor which led to the unfortunate incident. The railway should take action against such corrupt contractors and blacklist them," said Mahato.
The Leftist leader said that the villagers were pacified after the railways and the private contractor agreed to give Rs 20 lakh compensation to the deceased workers family and Rs 20,000 was given immediately along with assurance of a job to the dependents of the deceased workers.
Jabalpur-Howrah ShaktiPunj Express was the first train to leave from Dhanbad station at 5.38 am after the agitation had ended.
Senior divisional commercial manager (Dhanbad), Akhilesh Pandey speaking to The Telegraph informed that a high-level committee has been constituted to probe into the reason for the mishap.
"Prima facie it appears that rains had loosened the soil which caved in leading to the mishap. But we would have to wait for the probe report by the high-level committee to find the exact reason for the mishap.
"The dependents of the deceased will be given adequate compensation as per the 'workmen compensation Act' by the private contractor," said Akhilesh Pandey.